Kanna Blade specially made by Mr. Imai, a blacksmith in Kyoto
In Japan, "the natural scenery is clean and beautiful" is called "山紫水明"(Sanshi Suimei).
I named this Kanna using the words "紫" and "明".
The beauty of woodworking is that the material is used as it is and its natural state is also beautiful.
It would be nice if Kanna could be used to further express its beauty.
Let's enjoy woodworking together!
At Suikoushya, we share traditional Japanese woodworking techniques and skills. Since it is a small group system, we will provide guidance tailored to each individual's skills, from beginners to woodworking professionals. Please join us!
I look forward to sharing fine woodworking with you.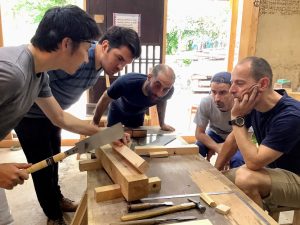 the natural scenery is clean and beautiful