If you want to divide the material evenly, you can make it easier to divide the material by intentionally setting the scale to a value that is easy to divide.
For example, if you divide it into three, it may not be divisible by a number. In such cases, it is recommended to place the square in a position that can be read in multiples of 3.
You can get accurate dimensions with a little ingenuity.
材料を等分に分割する時には、目盛を割り切りやすい数字にわざと設定すると分割しやすいです。
例えば3つに分割するときは数字上割り切れない場合があります。そのような時は、さしがねを3の倍数で読み取れる位置におくと良いでしょう。
ちょっとした工夫で正確に寸法が出せます。
At Suikoushya, we share traditional Japanese woodworking techniques and skills. Since it is a small group system, we will provide guidance tailored to each individual's skills, from beginners to woodworking professionals. Please join us!
I look forward to sharing fine woodworking with you.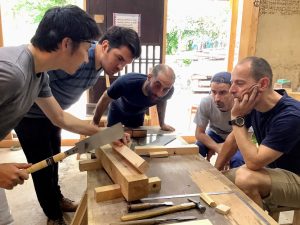 japanese hand tools~How to divide the material using a square