Recently I have was invited to have a chat with a graduate student from Sweden. Juan is completing his studies in the topic of Emotional Bonding with Objects in the Digital Age at the Umeå Institute of Design. Juan, Marco and I chatted about various interesting topics, and the chat was conducted in Japanese with an English interpreter. You can watch the videos of our chats here.
At Suikoushya, we share traditional Japanese woodworking techniques and skills. Since it is a small group system, we will provide guidance tailored to each individual's skills, from beginners to woodworking professionals. Please join us!
I look forward to sharing fine woodworking with you.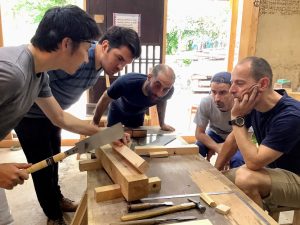 A coffee chat with a japanese carpenter