Book Stores
Here are some book stores in Kyoto which has a good selection of books on architecture, carpentry and woodworking. Note that most books are written in Japanese but you can find books with plenty of pictures and drawings.
Address: 京都府京都市中京区竹屋町上 西革堂175 新椹木町通
Operating Hours: Mon – Sat     9:00am – 6:00pm
Sundays & public holidays     1:00pm – 6:00pm
Address: 京都府京都市中京区中京区山崎町 河原町通 三条下ル 山崎町251 
Operating Hours: 11:00am – 9:00pm
Recommended Book:
Wood Joints In Classical Japanese Architecture (PDF version)
The texts used in my school. please check this.⇒★suikoushya textbooks★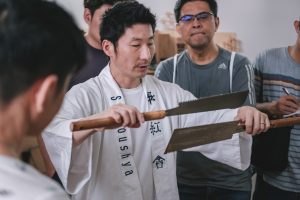 We want to BRING MY JAPANESE WOODWORKING SCHOOL ABROAD so it is more accessible for the people who cannot come to Japan. By bringing the school to abroad, the physical barrier is removed, allowing me to share the skills, knowledge and joy of Japanese woodworking skills with more people from different parts of the world.
Please support a Japanese carpenter !