Sharing the information
I share the valuable experiences I attained at Ise Jingu with people from all over the world. People seeking for information will gather and share even more information, learn, and continue growing. I believe this synergy is the real beauty of sharing information.
However when sharing information, some people remark:
The value of Japanese woodworking will go down.
People who will come to Japan to learn will decrease.
But, these are needless fears. People gain even deeper interest by attaining information, and it increases the desire to learn more. When gathering information through books or videos, have you ever experienced becoming clearly aware of the information you lack?
The more the amount of information increases, the more information meant for the broad community is not enough. We realise the best way to learn is by watching with our very own eyes, and to actually experience it. We know from instincts that "seeing is believing". Especially now, in a world overfilling with information, we seek information pin pointed at ourselves.
In a time where individuals can easily share information, the world is flooded with information. Why don't you start from generously sharing information?
"Keeping information a secret" is an old way of thinking. If you share all the information, interesting information from all over the world will gather to you. You should be able to naturally see what people have an interest in, and what they are seeking.
The thing you like.
The thing you are good at.
What people are seeking
When all these three meet, a new service is born, and the interesting world in front of us widens.
私は、伊勢神宮で得た貴重な体験を世界中の人たちと共有しています。ある情報を求め集まった人たちは、そこでさらに情報を共有し、学び、成長していきます。この相乗効果こそが、情報発信の醍醐味だと私は思っています。
しかし、情報発信していると
日本の木工技術の価値が下がる

日本に学びに来る外国人が減る
などの声も聞こえてくるものです。ですが、これは杞憂にすぎません。人は情報を得ることでさらに興味を深め、もっと知りたいと思うようになるからです。
実際に本や動画で情報を集めているとき、自分に足りない情報が明確になったことはありませんか?情報量が増えれば増えるほど、私たちは多くの人に向けての情報では物足りなくなります。自分自身の目で見て、実際に体験することが一番の学習になることに気が付くのです。「百聞は一見に如かず」であることを、私たちは本能的に知っています。情報にあふれた今だからこそ、私たちは自分自身にピンポイントな情報だけを求めるようになってるのではないでしょうか。
個人で簡単に情報を発信できる昨今、世界中には多くの情報が溢れています。あなたも惜しげなく情報発信することから始めませんか?「情報は隠す」なんて古い考え方です。あなたが全ての情報をオープンにすれば、あなたのもとには世界中から面白い情報が集まってきます。皆がどのようなことに興味があって、何を必要としているのかが、自然と見えてくるはずです。
自分の好きなこと

自分が得意なこと

人が求めていること
この3つが一致した部分に新しいサービスが生まれ、私たちの前にはさらに面白い世界が広がっていくことでしょう。
At Suikoushya, we share traditional Japanese woodworking techniques and skills. Since it is a small group system, we will provide guidance tailored to each individual's skills, from beginners to woodworking professionals. Please join us!
I look forward to sharing fine woodworking with you.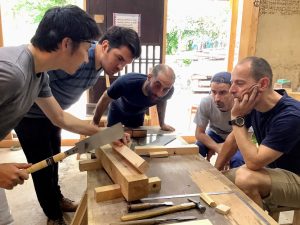 Sharing the information~情報を共有する~