Today, I will explain the difference between "I know" and "I can".
There are many walls between "I know" and "I can do".
The first is a knowledge wall (knowledge), the second is an action wall (trial), the third is an awareness wall (what you can understand for the first time), and the fourth is a skill wall (become able to do). , The last fifth is the customs wall (what you can do).

As you can see, after you have gained knowledge of woodworking there are several walls before you can do it

At suikoushya international craft school, students learn skill by acting on their own and by repeatedly modifying their behavior.

There are many things that you notice only when you see my skill, hear the sound of work, and touch the material with your own hands. 

Students will make a huge leap in being aware of the differences with me.
Experience requires more than knowledge to grow.

There are many people who want the knowledge to get started.

However, acquiring knowledge is not directly related to improving skills.

If you want to create something, even if you don't have sufficient knowledge or skills, I recommend working right now.
I think that is the first step towards "what you can do" and "enjoying woodworking."
Do you enjoy woodworking?
At Suikoushya, we share traditional Japanese woodworking techniques and skills. Since it is a small group system, we will provide guidance tailored to each individual's skills, from beginners to woodworking professionals. Please join us!
I look forward to sharing fine woodworking with you.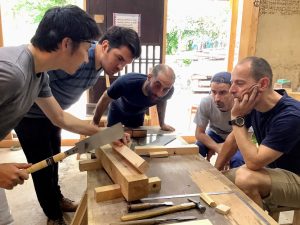 the difference between "I know" and "I can"