I made a video of Sawhorse processing.
This joinery is an application of sliding dovetails.
Processing procedures are very important.The angle and depth of the dovetail are especially important for the joinery to function.
Please use it as a reference.
Suikoushya International Craft School shares a wonderful world of woodworking with you.
From beginners to professionals, you can learn the necessary knowledge and skills according to your experience!
At Suikoushya, we share traditional Japanese woodworking techniques and skills. Since it is a small group system, we will provide guidance tailored to each individual's skills, from beginners to woodworking professionals. Please join us!
I look forward to sharing fine woodworking with you.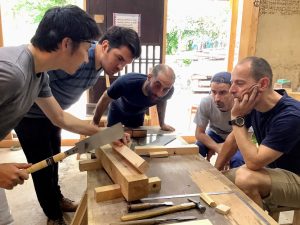 japanese woodworking~A video of Carpenter work table processing