Michael Watson(From Australia)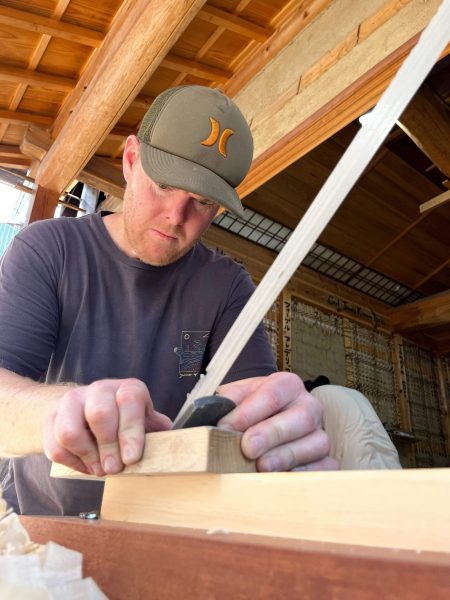 I really should have read the reviews before I began the course. I didn't really have any idea what I signed up for.  I just love woodworking and learning new things. Ultimately the course was fantastic and provided an opportunity for growth. Also Takami and Rodrigo are great blokes. During the first couple of days of the course I was just trying to get through the sharpening of tools as quick as I could so I could move on to making something. Takami's favourite saying to me was "no rush" and "not 100% yet". It was hard for me to slow down and just keep persisting. Day 3 I went home and read all the previous reviews. Then I got a bit better of an understanding of what the program is all about and started to just slow down and enjoy the process. Takami is incredibly knowledgeable about Japanese carpentry and makes himself available to ask as many questions as you can think of. He is extremely passionate about woodworking and conveys this through his teaching. I don't think I would have become as competent as I am now if we didn't spend the time getting things right in the beginning.  Takami took us on a couple of interesting trips to really understand the process of how Japanese tools are made which provided a good foundation when using them.  I walked away from the course feeling accomplished and feeling like I have a better understanding of Japanese tools and techniques.  The overall experience of Japan was extremely positive and I made some incredible memories. 
"Good timber does not grow with ease. The stronger the wind, the stronger the tree". 
Mick Watson (August 2023)
Pang Tianyi(From China)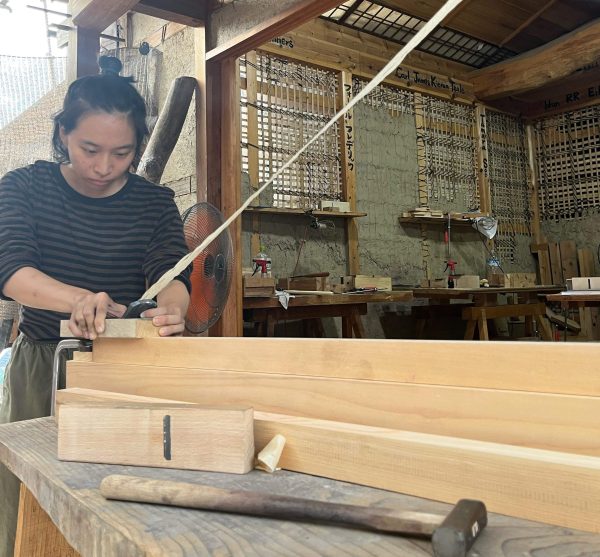 I have learnt so much with suikoushya in the past month, it has been the most enriching time for me in 2023. Although I started with very little knowledge on carpentry, now I feel like I can proceed on learning on my own with greater patience and confidence. It is going to be a challenging and interesting journey ahead.
What I enjoyed the most throughout this course was your pedagogic philosophy. The fact that you insist on focusing on our individual pace has been the key for me to enjoy this process, and truly learning through doing without feeling anxious. You acknowledged that we came from different backgrounds and brought different experiences, that's what makes the classroom vibrant and inclusive!
In short, I would encourage anyone who is fortunate enough to work and learn with takami. His open mindedness has widened my understanding of a 職人. In this space, I worked with 100% focus knowing that Takami, Rodrigo and all of my classmates are here to support me.
Nihir Shah(From USA)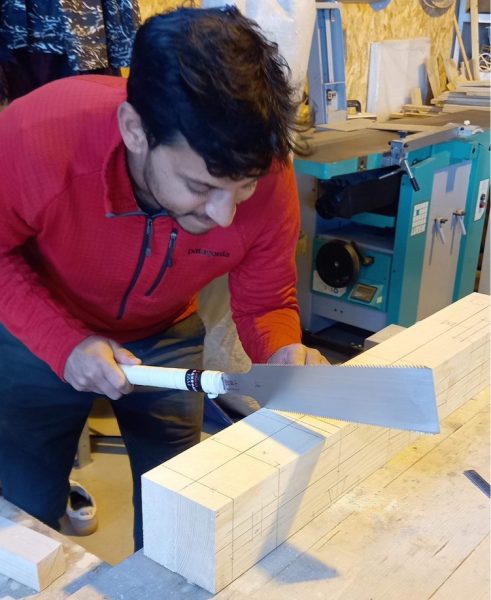 This is a very special and rare course and Sensei Takami is a very special and rare teacher. I am a Product Designer and Woodworker based in California (USA). I feel fortunate to have had this experience and I recommend it to anyone interested in Japanese Woodworking, regardless of experience level. This is an intensive and complete course. In comparison, the other ones that I have found are typically limited to one specific skill, such as tuning a kanna or sharpening chisels, but Sensei has developed a practical course that will teach you foundational skills that you can build upon. Many graduates from Suikoushya have gone on to become professional woodworkers. You will learn how to read wood and set up, maintain, and use the most common hand tools including the hira kanna, striking chisel, paring chisel, hammers, saws, and marking/layout tools. That's not all! As you can read in other reviews, you will also take away the spirit and mindset of Japanese Woodworking. Lastly, Sensei will also help you to purchase high quality tools and continue to share his advice long after the course is done.
Sensei has much experience teaching students from around the world! He is a natural teacher who truly loves sharing his tradition, culture, and craft. He is patient, kind, generous, encouraging, yet also strict. He will hold you to a high standard and gives proper attention to each of his students. When I saw him calmly move from student to student, adapting to their various challenges, troubleshooting their various needs, tailoring to their various skill levels, that is when I could sense the mastery of Sesnsie Takami. And although he is humble regarding his English speaking skills, his communication is more than adequate and he is improving day by day.
I wish there were more courses like this out there in the world so more people could experience the joy of Japanese Woodworking, but for now, Suikoushya is a rare and special experience. The course is worth it! Best of luck to you.
Renzi Maas (from Belgium)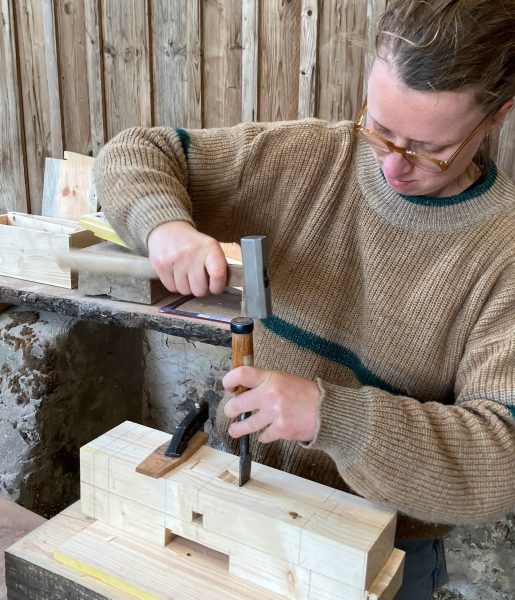 I had a wonderful introduction to Japanese woodworking, language and culture taught by you in France.
In my experience, it was everything I hoped to learn. Very basics of using handtools in the right way. Understanding and getting to know your tools and learning about the importance to take good care of them. Besides the woodworking there was the surroundings, being in the forest, being outside all the time, these made me enjoy it even more.
I have been thinking a lot about our conversation and how it makes a lot of sense in theory and when I saw you working, I saw your words being put in action. Being back home, I realise that it is very difficult for me to find this state. So many things 'have to happen' and scream for my attention, take up so much time but yet they feel as necessary. These are not just distractions yet they distract me all the time. I would love to be able to focus when I want to focus and let the other worries be. How to say, I feel like the city and society I live in make it very difficult to find this focus. Yet here lays a great challenge because following the suikoshya school showed the possibilities and things you can achieve when mastering to focus. I will try to arrange my life a bit differently to implement this. I am moving in July so i would like to make a sharpening corner in my house, also surround myself more with nature, grow some vegetables, go to the forest when I can. I strongly believe that changing the context in a stimulating way will help to focus better.
I can let you know the results after a few months.
I would like to thank you for your patience and lessons and hope we will meet again in the future.
Jouni Vidqvist (From Finland)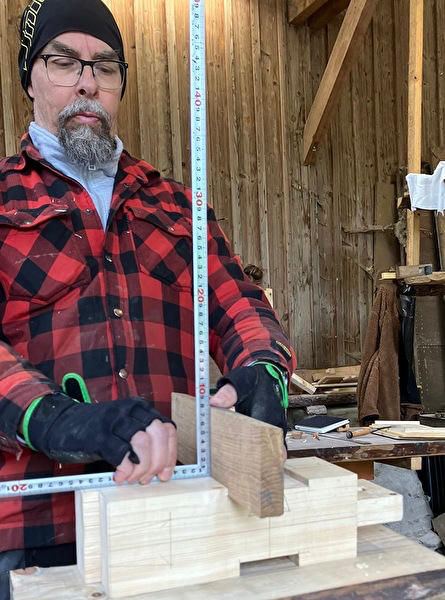 Thanks once again for the excellent course. I think I have finally found my 'Ikigai'. Looking forward to see you either in Kyoto and perhaps in Finland. Let's enjoy woodworking and life!!
Maxime ROYER(From France)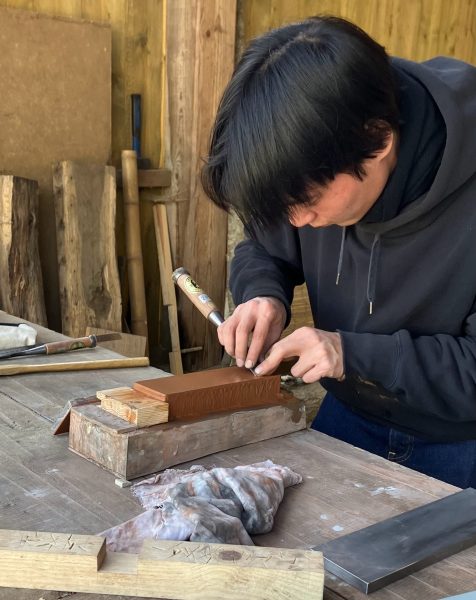 This month was very instructive and exciting for a young architect like me who try to find and explore the nature of the Project in the broad sense.
Learning and practicing with confidence thanks to your knowledge and experience was very pleasant and motivating for the future. And sharing all of these knowledges and skills with other enthusiasts people from different countries and culture was also very stimulating and instructive.
This course changed my way to work and has opened new directions for me to explore.
Thanks you so much, I'm looking forward to meet you again, in Japan or elsewhere.
Hanna Fastrich(From Germany)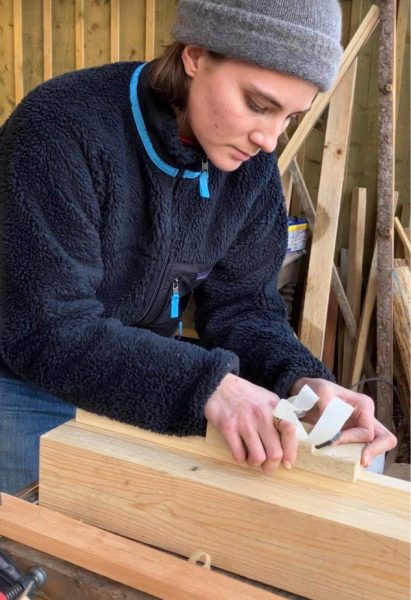 I was very touched by your feedback, your words mean a lot to me.
My big aim is to keep learning more and always enjoy what I am doing.
You have been one of the most influential teachers of my life for me.
You taught me so many valuable things about the material wood, how to be patient and precise, and how to enjoy long hours of work in the cold!
But even more than that, learning about your views on craftsmanship and the importance of making things with intention and beauty.
I hope one day I can find the same perseverance and peace that you seem to have when working.
Your parents chose your name very wisely! You have had such a great impact on me and I will forever be grateful for that.
I hope we can stay in touch and hopefully I will see you soon maybe this year in Japan.
Alberte Svendsen (from Denmark)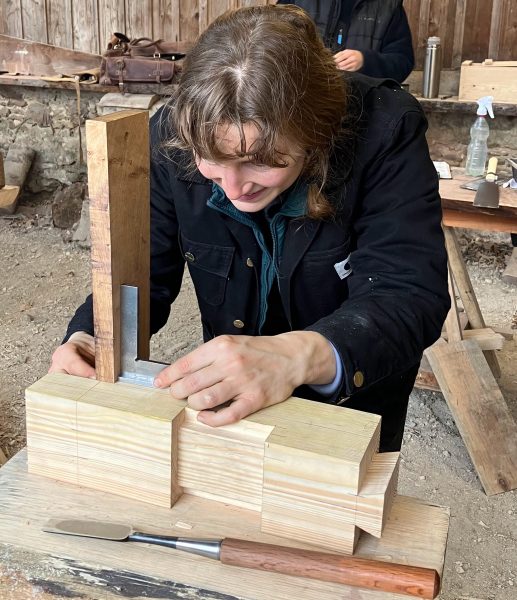 I enjoyed your course very much. I learned a lot about the Japanese handtools and how to us it properly.
I was very inspired by philosophy about your work and way of working. I returned home with a lot of positive energy and and greater awareness. I will definitely continue my work, and I hope that we one day will meet again.
Thank you so much!
Ding P So(From USA)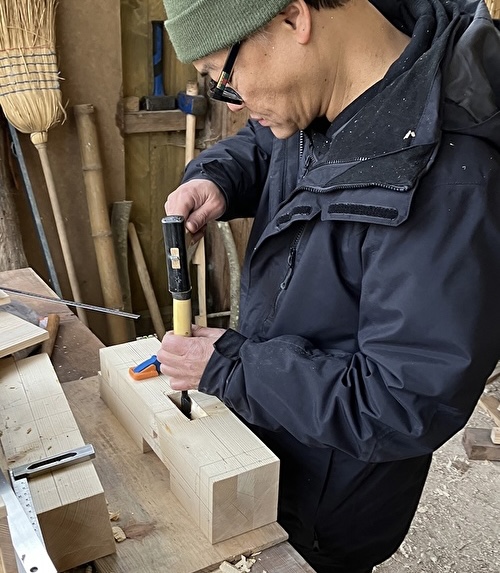 The class was a great and I enjoy it very much.  I feel lot more confident to build woodworking objects now after your class.  I hope the see you soon in Japan in  2014 and in America too.
Christian Vogel(From Switzerland)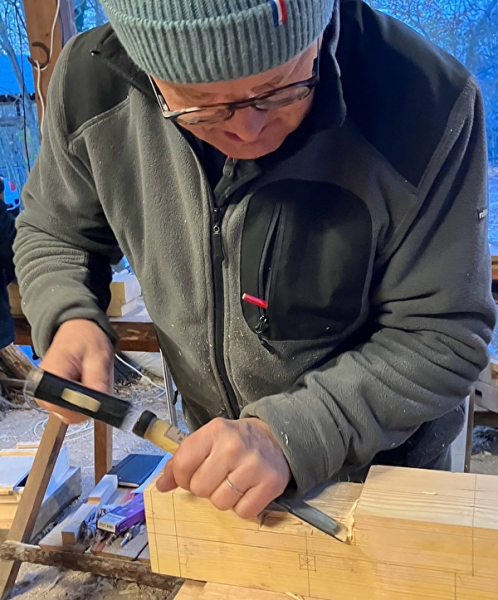 Working through my hole live with wood as a hobby i had the chance to join this course after my retirement with 63 years. After this course i understand now the technic behind Japanese Woodworking Tools much better. I can now sharpen my chisels und my two canna, i use them now every day. I learned a lot by doing my first wood connections, Takami helped all of us individually. This course with the other international group members was very inspiring.
Marc Davies(From Spain)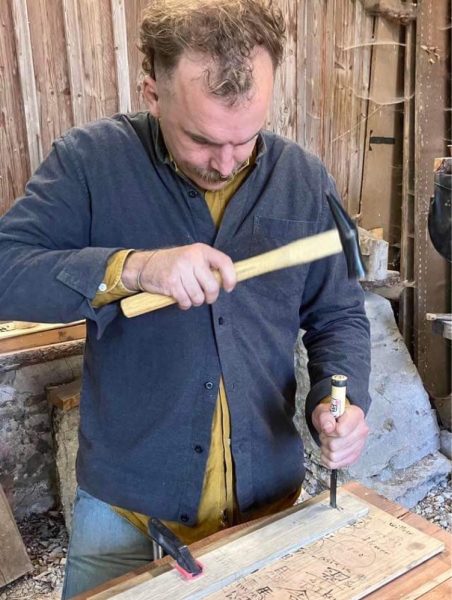 "When I arrived to start the course, I saw the joinery and tools that other students had made and I was amazed at the level of accuracy. I had never worked to such a level of accuracy. But within a few days, I had already started achieving this in a small way and after a couple of weeks I felt confident approaching new tasks knowing that I could achieve what I had seen. This is a great opportunity to learn a high craft quite quickly. It's also fun!"
Ruichao Chen (From Spain)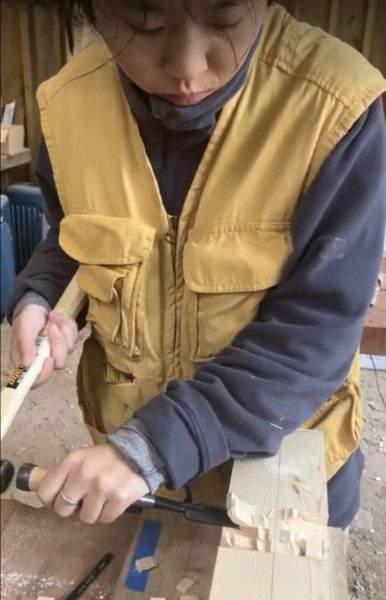 I went back Barcelona by train, it was a 6 hours journey, So I had a lot of time to think and summarise the course. Besides the woodworking skills, which are super professional without doubt, I really appreciate the philosophies and work attitude you taught me during this course.
To be honest, I know I am not a good student, especially I am too jump and didn't follow all your instructions, I fell so sorry about that, and I feel so sorry If I had brought you any inconvenience, I will do better if I would have other chance in the future, I promise, haha. I know it's all for our good.
Your philosophy, your work attitude, your persistence to yourself and humility to your work have really influenced me, and I will apply them well in my future work and life.
I can still remember what you said before the campfire the barbecue day, and all the recommendations you gave us for our own professional growth the last day before the dinner.
I don't have any advice for this course, only gratitude, because it's already the best.
Hope everything goes well with your project.
All the best
Ruichao
Andras vari(From France)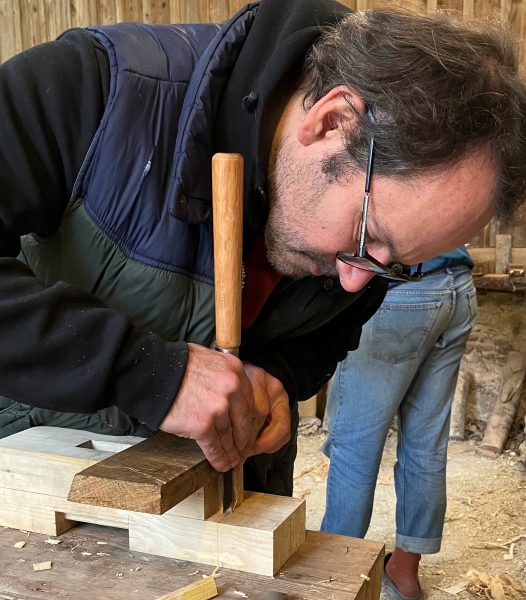 I started wood-working 3-4 years ago, and being self-taught I knew I was lacking qualities which cannot be taught in video tutorials, like method and accuracy. I was also very interested in japanese aesthetics and craftmanship, so I didn't hesitate much when Takami opened a class 50 kms from my home.
I'm not naturally careful or precise, but with daily exercise and advice, I was soon able to cut and assemble wood pieces with a precision I couldn't have imagined being capable of.
Takami's an excellent teacher. He has a passion for wood working and wants to share it. This genuine love allows him to guide every student to quick progress and pass on a better understanding of the material. He's never happier then when you manage to do something difficult or new.
It's been a week since the end of the course, and my way of working has changed a lot.
Name withheld by request(From Indea)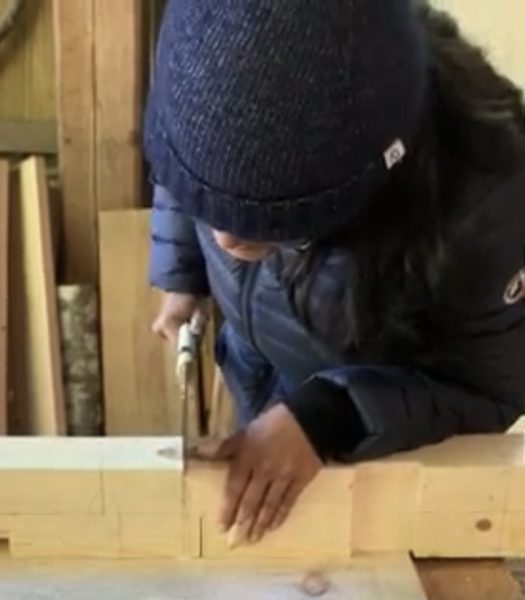 This course was way beyond my expectations. I never knew the crux of carpentry really. For I never knew we were going to learn so much! I underestimated the value of tools. For me the product or design was more important – and just giving the drawings to carpenter and getting it done. I assumed my hands knew everything , but they did not really know till you taught us with 120 percent precision. I was in such a stage of my life that I was only designing and asking others to construct for me. I realised the importance of working with my own hands till I die. I hope to do this. Assumption is so wrong at times, it's always better to do , experience and then understand than just assume from far away and imagine things in mind.
The structure of the course was really intense – it included everything. It was fast whereas I'm a very slow learner. But it taught me the value of time and how 120 percent focus can help me to do things fast and efficiently. Also I realised the importance of asking questions. Somewhere down the lane while working in the office I thought I would understand by doing things myself, but I realised in this course that there is always the " other side". Takami helped us see " what is on the other side". And the more others asked questions i realized no matter how foolish the question is there is point of discovery for the other side. I loved the discussions on culture, philosophy of beauty and function and the more questions were asked the more the course took a different shape. And shouldn't it be so? Each batch of students is different because every person is different.
Takami is a magician transforming lives unknowingly with teaching the spirit of woodworking.
After I have come back and resumed working on projects the course has emphatically changed the direction of my choices in working. I was getting carried away by how the commercial world treats "furniture" or carpentry. In India because we have so much of the labour force, architects just usually sit in chairs in the office and co-ordinate things. I have been discussing this same thing with my colleagues in the office and other friends that we are shaping ourselves into subcontractors or managers THAN designers or makers. Even if we do site visits we "supervise" workers on site, correcting them without having undergone the process of construction by our own hands. I was doing this in between involving myself with the material and enquiring in depth.
the course opened a portal in my mind and body. It showed me how much ever I enquire it is not enough. I need to do more and more and more with my OWN hands.
One very simple thing i learned during the course – the work will flow more smoothly if i use the right tools and rightly sharpened tools. I realised i was struggling with chiselling the surface because my chisel had a bevel and i was avoiding sharpening because i thought i was consuming time. BUT instead i should have sharpened my tools – the work would have flowed smoothly and fast.
As i am back in india I am struggling to find my own space as the old workshop lease has come to an end. I want to set up a small workshop space near my office or have a studio with the workshop space where I will practice these skills everyday. One thing i know for sure that if i think about it everyday it will come into reality. There was so much of positive energy during the course that when i feel lost in everyday life i just close my eyes and visualise the theory class , the workshop space in france my working table. I think this imagery i'm going to rewind in my mind everyday till i really come to Japan and find a new set of imagery to rewound in my mind.
My focus now is to complete level 10 joinery in the coming months. I will be practising and practising and practising. People are telling me to make furniture for them. But i am hesitating in taking too big furniture projects because i don't know whether i will be able to do justice to them. I will be FIRST and foremost gathering TOOLS. I have learnt TOOLS are the spirit and life of shaping a material like WOOD which alive all the time. I am also planning to visit villages here, where wooden structures are common and are about 200 year old. Now when i look at them, it will be different, my observation will be different. As i'm writing this i feel a new hope.
I want to write more as I think about the course everyday. I guess I will just reply to this thread or make a blog as i think and learn everyday.
Thankyou TAKAMI San! You really are in the truest sense TEACHER.
Marine de Carbonnieres(From Switzerland)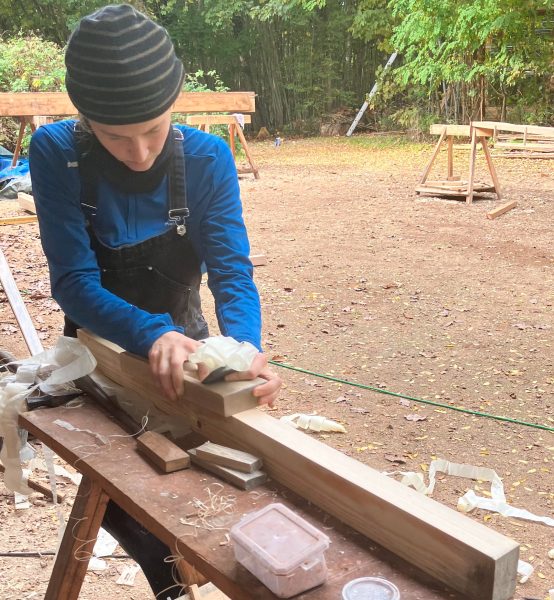 Thank you very much for this month of sharing woodworking and many other principles of life.
The course surpassed my expectations. I found that through learning about woodworking and making with the hands, the mind was nourrished. While working the ideas about precision, reaching the 100%, focusing, start to be engrained in yourself and I can already feel it is a way I want to transpose to any type of work I pursue.
It is important to keep an open mind and to continue to try. Many things that are taught can only be understood when doing and it takes time for the gesture of the hand to become engrained in the mind so perseverance and patience are important.
I am back in Switzerland and sharing my experience with others around me. The past month went by very quickly and it feels strange to look at a clock again. Now I would like to work on a real structure and also study the Swiss woodworking techniques.
I have gmail and will be studying the extra material and continue to do woodworking!
Thank you again for sharing so much with us. I look forward to the next Suikoushya School meeting!
Have a good month of November and stay warm!
peter constantineanu(From Norway)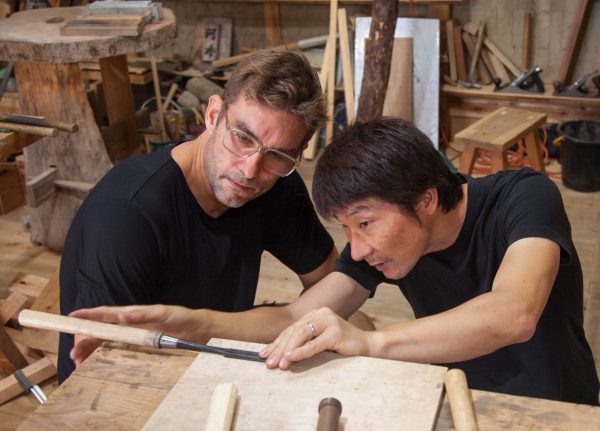 I had been wanting to go to Japan to study with Takami for quite some time, and when he announced that he was going to hold a month course in the August/September I jumped at it and was lucky enough to get a spot!.
My name is Peter and I'm an architect with a long-standing interest in wood- both as a part of my daily being an architect but also on a smaller more personal scale.
I've been doing woodworking for a few years and really wanted to expand on my knowledge on using Japanese hand tools, joinery, the philosophy behind it and give myself time to gain some actual muscle memory through continued practice.
From the very first day (in 35 degrees and what felt like 100 percent humidity) it was clear that Takami had a great pool if knowledge to learn from, both in terms of techniques as well and the underlying approach. Throughout the course he kept sharing little bits of practical tips as well as more philosophical aspects of his approach, addressing both individual questions as more fundamental themes.
After a bit of tool shopping we started with the basics of sharpening our tools and practicing how to use them – Chisels, plane and saw.
We learned to approach a line with caution and leave half of it for reference. I slowly learned (with a loooot of patience from Takami;) how to calm the f#k down and focus on each stroke and movement instead of being somewhere else – and even step away for a few minutes to regain my focus.
Yes, it did take some time ( and some really tired fingers) to get a sharp edge, but slowly my body adapted – from my "daily in front of the PC worm" to actually manage to sharpen as part of the work.
We had to learn how to measure and put down lines correctly, to follow them and remeasure and check for straight surfaces – this part had till then been a neglected area on my side, but the insistence of very high precision really showed, and taught me, the importance of putting down AND following lines is the very foundation of high level woodworking.
We kept improving on our skills through a series of small projects from building a platform for the sanding stone, a toolbox, a plane and then working from more simple joints to more advanced.
Throughout these daily practices Takami kept helping and nudging us forward with a sharp insistence on being focused, staying calm and having a respectful attitude both towards the tools and the wood. (and more focus on the tip side;)
For me, this was a perfect way of studying – a small group of likeminded people and a very dedicated teacher adapting his teachings to each our levels. Takami and Marcus gave so much of their time beyond the workshop, to both show us Japan from a woodworking perspective but also small everyday issues – hugely appreciated.
I was really happy to spend the time learning and studying with him, and I learned so much – both in terms of techniques and approach. The course was supernice and really transformative for me – it fueled both my passion for woodworking and practical skills on so many level that I can but only give my warmest recommendations.
August Botsford(From Switzerland)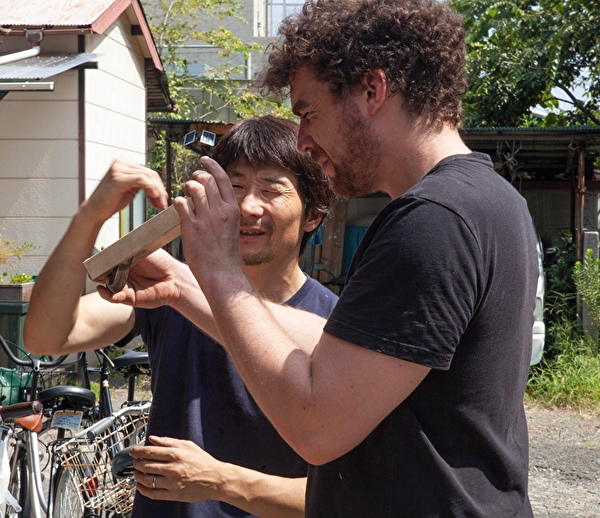 I attended the one month Suikoushya carpentry course in August 2022 in Kyoto. It was an amazing experience and I'll carry the things I learnt with me for the rest of my life. For four weeks my four course mates and I shared the small workshop space in the thick summer heat, our trusty fans working hard and citronella coils burning to keep the mosquitoes at bay, and together worked to achieve focus and to use our tools with precision. Often we stayed late into the night to finish a joint or try to prepare a troublesome edge so that we would be ready for the lessons of the next day.
When I got back home people asked me "what did you make?", but this course is not about making things, it is about how to make. It is about achieving focus, being disciplined, and learning an intolerance for sloppiness. As Takami often reminded us: "be careful", "no rush", and "more focus on the tip side". Takami is a gifted teacher and it is a joy and inspiration to work with him. He adjusts to your level and sees very quickly what guidance you need. Make sure to really listen so you can catch every piece of advice and wisdom that he gives out so freely.
One piece of advice to future students is to be careful about acquiring too many tools too soon. The temptation to buy is very strong, but try to make sure that you have the basics properly set up first! That is: 12mm and 24mm bench chisel, one paring chisel, and a kanna. Do not underestimate how long it can take to set up new tools!
Ken Sharp (From USA)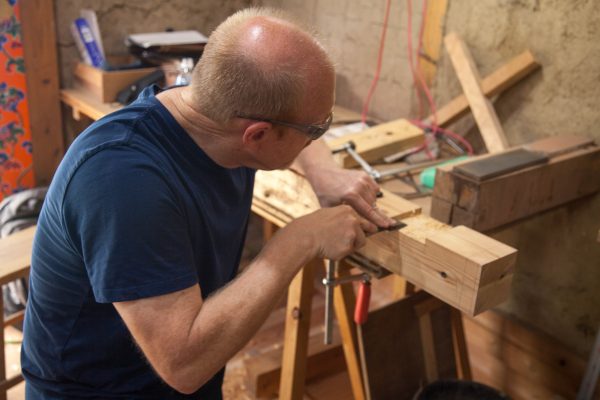 I just completed the one-month woodworking course and it was a great experience!  Takami is a great instructor!  He is very patient and takes time to explain the context of Japanese carpentry and shows you step by step what to do.  For me, there was no greater feeling than getting the Kanna properly sharpened and adjusted to get those beautiful, long, thin shavings!  Overall the experience was great and I was able to incorporate many of the techniques I learned immediately upon my return home.
Based on my experiences, I have the following advice for anyone considering taking the course:
Be willing to forget everything you think you know.  I have been a woodworker for many years and the hardest part at the beginning of the course (and through the course) was trying to do things my way versus the way we were being taught.  Forget what you know.  Do things the way you are being taught.  Learn the skills.  You can experiment with mixing what you have been taught with the way you have done things in the past after the class.  Take advantage of the 4 weeks you have in class!
Speaking of 4 weeks, be strategic with your time.  Four weeks can sound like a lot of time, but it goes very quickly.  Focus on learning the skills and making good use of Takami's time.  Start using the open workshop time early in the course (particularly for sharpening).
Although time is limited, the course is not a race.  It is very easy to focus on trying to complete projects rather than completing projects correctly and learning techniques.  Take your time.  Focus on learning the skills.  Use the jigs correctly (it is marked "top" for a reason).  Respect your reference lines and surfaces.  Don't get sloppy marking and don't cut through the lines.  You always need to be able to see what you are cutting!
Lastly, your classmates are a great resource.  Learn from their successes and failures.  Don't be afraid to try and help them.  You will both learn from the experience!
-Ken Sharp
Kyoto Class of '22
John Conti(Italy)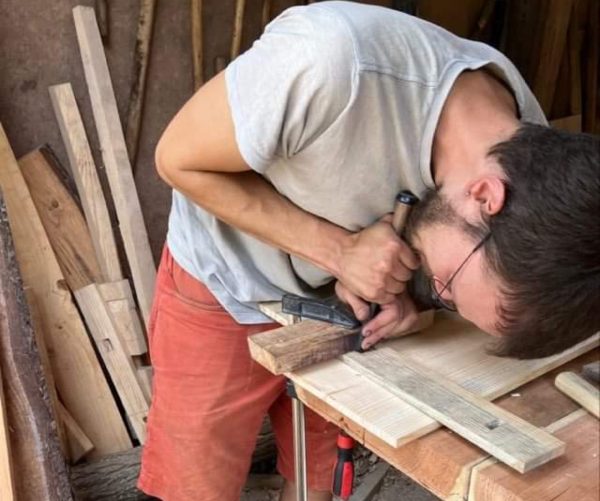 I loved the course and I learned from it so much! I treasured the way of working also, it's been the first time that some one told me not to rush. I feel that one month for me for sure isn't enough, but I got a glimps through the key hole  of what Japanese carpentry is about. This is going to be part of my know how and I'm going to do my best to improve my skills!
Oscar Hamza Palou(From Spain)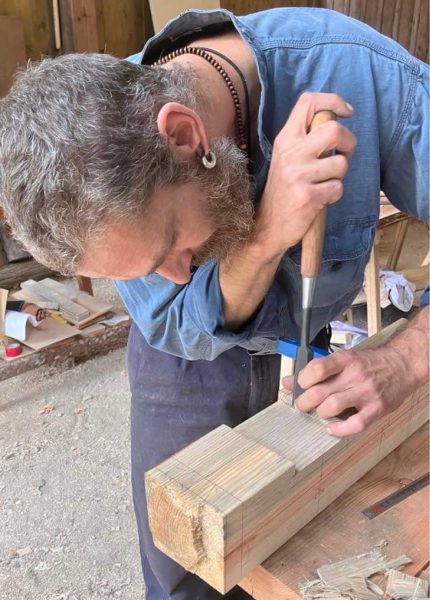 One-month course was to me, an immersion through a demonstration of professional carpentry basics that i received with fascination and admiration. A transmission of knowledge done from passion and self confidence. Through the course I could solve questions regarding the topics, developing further understanding and been always answered with great care and dedication. Without any doubt, the month has been an opportunity to observe and test skills, to develop confidence in a process of deepening into joinery and definetly understanding the importance of purpose in work. A guarantee to be thankful and happy.
Looking forward to keep connected for further encounters,
[2021 School in Marseille]
Cédric Meuleman(Belgium)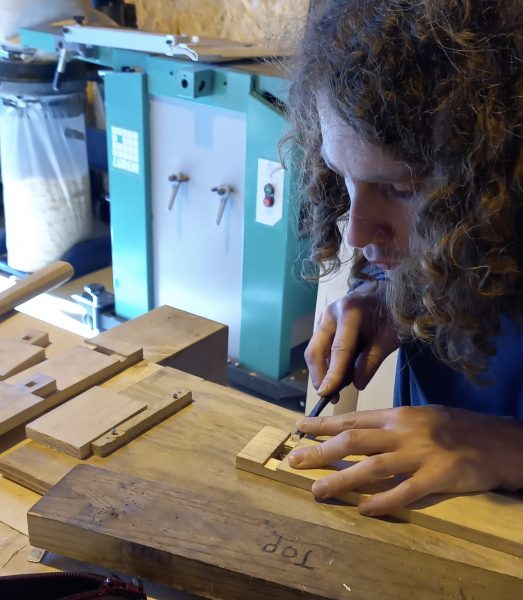 With a background as a architect and interested in Japanees architecture and tradion.
The course is a eye opener for every one who stand open for it.
You will learn the tradition from men to (wo)men like it have to be.
It's give you the chance to learn and discover Japanees carpentry.
Beside that you also learn to focus and stay calm.
The course is a starting point or a direction for a new journey.
Pavel Chaloupka (Czech Republic)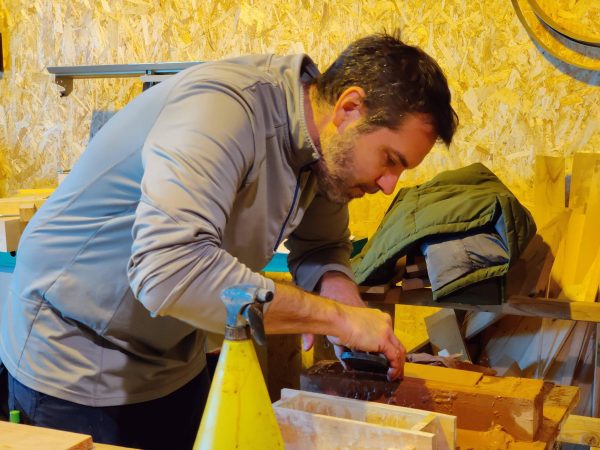 Even though my expectations were quite high, the month in Marseille was truly a life changing experience. For the first time in my life I had a chance to meet in person a teacher who could answer my questions regarding tools and hand tool woodworking.
I now feel confident setting up the tools, which makes a huge difference to my work. And more to it what used to be a struggle is now a joy. After the first couple days I realized how elaborate the course was and how you don't even notice when things get difficult. You learn with a minimalistic set of tools which seems to build the skills very quickly. Every single step is explained and you learn to check your work according to the highest standards so that you can make sure it is done correctly. Takami is very open minded and if you come with a problem or a question, he will take the time to listen, find a solution and explain how to proceed. The most interesting part of the course for me was making the kanna dai because during the process you learn to understand much better how the plane works and what surfaces are critical for the blade to fit tight and be stable in the body than during a simple set up.
So is the course worth it? The answer is yes and yes. If you are a beginner who has no one to learn from, you can skip years of suffering that still may not get you even close to what you learn here in a month. And if you are a professional you can learn even more and vastly improve the quality and efficiency of your work. I definitely would like to come again in the future."
Best wishes for you and your family in the new year that is coming and for your work in Paris. 🙂
Philippe Tohme(From France)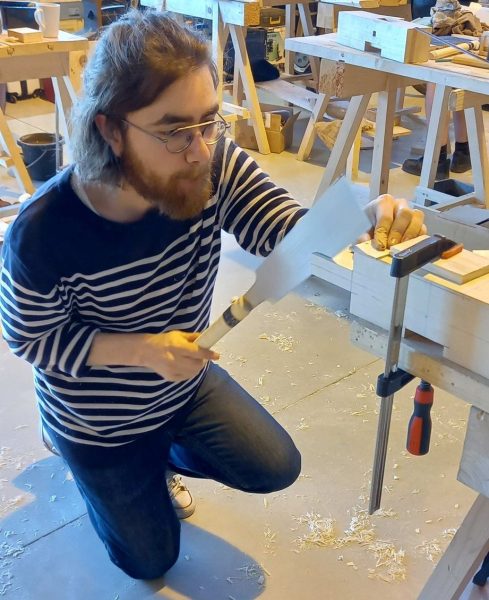 As a self-thaught woodworker and particularly interested in Japanese woodworking, I follow Suikoushya and his founder Takami almost since the beginning. But going to Japan for a mounth was a bit hard for me. So when I learned the school would move to France in 2021, I jumped at the opportunity !
In short : I am extremely happy with the month I spent learning from Takami.
Indeed, I had reached some limits on my self-taught journey and needed someone with experience to answer the questions I had been asking myself for years and to which books did not give me the answers I was looking for.
It was also an opportunity to improve my practice while being corrected live and to spend a month in total focus on the subject.
Suikoushya was the right answer to this expectations.
Takami is an excellent teacher who has the heart to share all his knowledge with his students.
Whatever your level, if you like japanese woodworking and want to progress, I can only recommend Suikoushya.
Teresa Sastre(From Spain )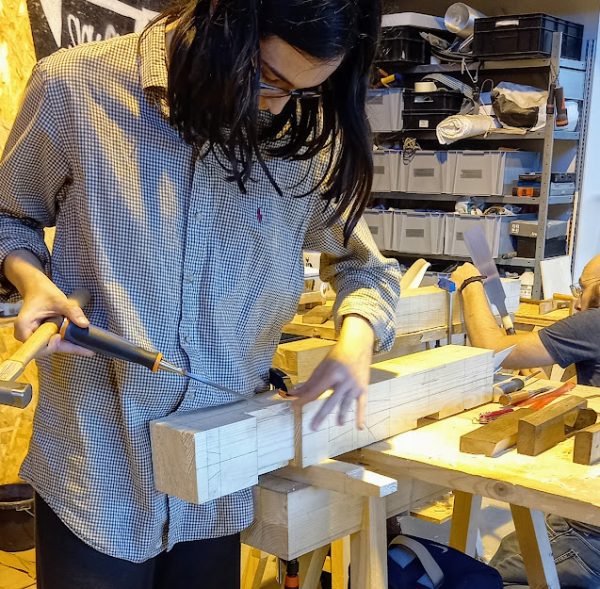 The one month course in Marseille was my first ever approach to woodworking and I turned out to be more fascinating and enriching than I could have ever anticipated. In a few weeks only, we were able to understand the basic ideas of traditional japanese woodworking skills, theory and philosophy. Takami created a very good working environment, always willing to help and answer every question as well as sharing his knowledge and experience with pleasure. I would definitely recommend it even if you don't have any experience; I found to be a very good starting point. My only technical advice is that you do as much research as possible about the tools you will need.
I feel very fortunate to have had this opportunity and I would strongly recommend it. I enjoyed every minute of it and I hope you will enjoy it too!
Ivon Haywood(From UK)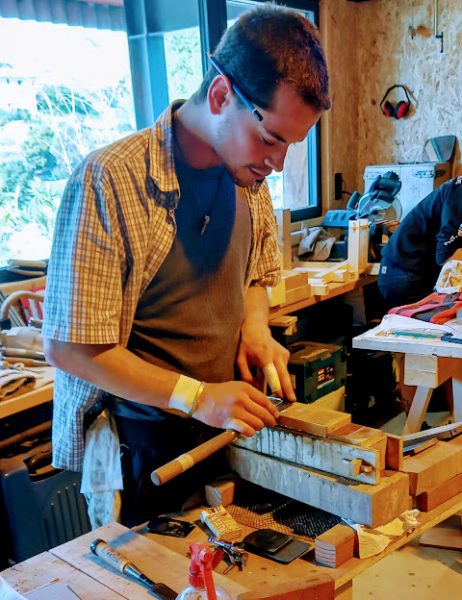 'My time here studying at Suikoushya, becoming more literate in the practice of woodwork has been profoundly life changing. We took an intense and deep look into Japanese tools and styles of woodwork and carpentry. For me this was a re-learning of what I had been schooled in at my furniture school, rycotewood. Becoming a novis again, challenging my understanding of my practice is humbling. Because we started at the beginning, then graduated quickly through each level of wood work. It was intense and the amount of information was alot, I'm glad I took notes.
You will be exposed to what is valuable when trying to achieve the best with your skills, where to place your attention and what to focus on. I was amazed at the quality of outcome to Takamis work and eventually our work too, despite a seemingly crude quality to the utilities. But this is where focus was placed; on our ability rather than the prettiness of our equipment.
This experience has given me a boost of confidence that I feel I often lacked. This course exposed to me what skills I already had, it also showed me where I lack skills, but most importantly it proved to me that I can work with intention, focus and motivation.
Takami's way of teaching and seeing the world, his philosophy was an extra blessing that I didn't expect. I asked for further education in woodworking and got much more. I'm thankful for this and I would highly recomend!'
Filip Neyrinck (From Belgium)

I attended the September 2021 course in Marseille as a beginner.  It was a refreshing and totally different approach to woodworking compared to the (shorter) workshops I already attended in the past. Most of these workshops had a certain object in mind that needed to be finished by the end of the workshop, with lots of shortcuts taken with the deadline in mind. Yes, I had a coffee table or box with dovetails at the end of the workshop, but what did I really learn?
You will find out that Takami-san approaches this differently. He focuses on providing a solid basis on which you can build further at your own pace.  All starts with being able to bring your tools in a perfect condition, straight and sharp. No compromises whatsoever here. Be prepared for really sore fingertips in the first week. First hand experience: working with tools kept at all times in really good condition makes a huge difference.
What did I Iike most?  I can not state enough how I appreciated the calmness in the workshop. No machine noise, all working quietly at different speeds.  I would almost compare it to studying in a library.  Takami-san generously shares his knowledge, know-how and best practices through a mix of inspring lectures and demonstrations.  The exercises come in a very logical sequence, enabling you to gradually build woodworking skills.   Once doing the exercises, Takami-san divides his attention over all students.  He is really able to assist all of the students individually, and really pointing out those fine details that make you progress most at that very moment. Takami-san at all times keeps an oversight of the progress and struggles of all students.
What did I learn?  No compromises on tool condition. Systematically checking the condition of tools before every important step in processing the wood. The same goes for the condition of the wood before starting. Really square? Really flat? Take no assumptions, just check it.  The importance of accurate marking. How to process the materials with high precision, cutting the thinnest pencil line in half. The discipline to check the accuracy of all intermediate steps, before taking on the next step. Accepting small inaccuracies will accumulate towards a less than perfect work piece.
Looking back to the work pieces we made during the course, I'm simply astonished with the accuracy we all reached under Takami's guidance. I feel confident I got a sold basis to build upon. Overall an experience I will cherish for many more years to come.
Clara Choi(From US)

It was a very humbling experience to relearn things from scratch from how to sharpen and measure lines, to understanding the growth of the trees and why it affects how you use the wood. It had made me rethink all my woodworking experience and cnc tool pathes when doing things automatically.
The class goes as your pace (no matter if you are a beginner or professional carpenter) as long as you are serious about putting in hard work and practice. It's a rare experience to be able experience Japanese woodworking in English.
I definitely had all my questions answered and some more. It was valuable just being in the same space and getting micro corrections that makes a world of difference in terms of your end result. I have definitely start to work not just with my thoughts and eyes but also started listen and feel and to me to this day is strange.
Raphael de Mévius (From Bergium)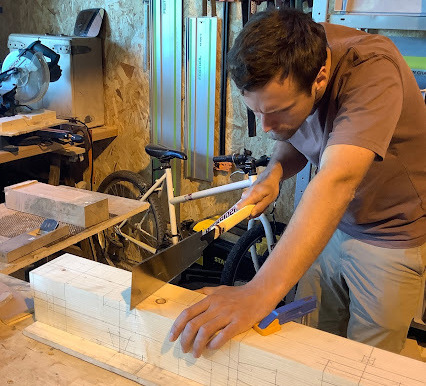 " This one month course was an amazing introduction to Japanese carpentry. I would recommend it to anyone who has the slightest interest in the matter. I was a bit apprehensive before entering Suikoushia International craft school in Marseille since I was a real beginner, but I don't regret one minute spent there. Takami Kawai is a great teacher. He is very patient and involved. He really knows what he talks about. Everytime, he explained something to us, he took the time to make sure every student had understood.. He was always available for questions or general discussion about carpentry. Moreover, our workshop was beautiful, located on a hill overlooking the mediterranean sea. We were a small group of five, which was a perfect number since it allowed Takami to help us one after the other. The workshop was always filled with a focus, working atmosphere. Seriously, I will remember this month for a long time. Thank you Takami! I hope our paths cross again (90° of course ;-). "
jean pascal Giraldi (From France)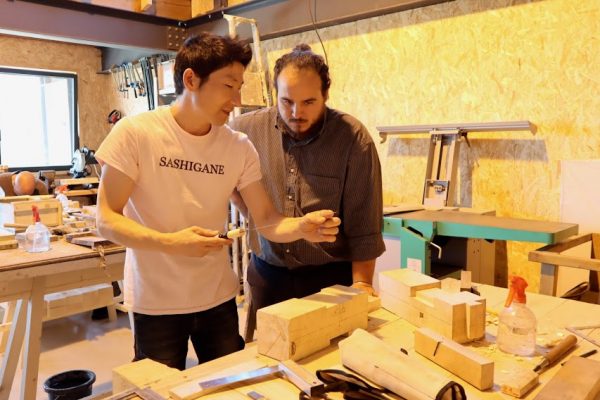 Hello I'm Jean Pascal Giraldi,
Woodenboat carpenter and furniture maker.Few years ago I started having interest into a more responsible work, particulary about material and tools. I try to propose local wood only, no plywood or other industrial products. As often as possible I want to use joinery instead of screw, glue, or additionnal material.More and more I included handtools in my process, they have the advantage to be light and handy. The settings are easy, fast and very precise. You can make the blade dead sharped on your own and generally tools will follow you for almost your working life. They also devellop your skills and ability.
But this is not a hobby, this is my job and I must be efficient enought with handtools to live with. I needed a strong method and that's why I joined Suikoushya school. I followed july class in Marseille where Takami Kawai teach us basis.
The class perfectly answered to my needs.
We first focus on sharpening. It was intense but it is crazy how much everyone improve in one month. Of course I still need to practise but I can say now I'm able to sharpen tools for professional use.
We also work on few joinery, the purpose is to get a method and to be able to reproduce it everywhere, whatever you have to cut. We learned there to correctly set and use tools. To be square, parallel, flat… As many people, I use to trust electric tools more than handtools to be precise. Now I consider I'm more precise with handtools. Sharpening and method make the difference.
It is a so great feeling to see yourself produce long perfect chips we all admired in videos! About that, I planned to propose furniture with plane shaving finitions instead of sending. I was afraid to don't be able to master kanna use in only one month but it was long enough for that, and more !
At least we learned to fix tools, or to do ourselve kanna bodies. This is another step to a perfect understanding about what you have in your hands. To do my own tool was very important for me.
I particulary appreciate that blades also are issued from craft skills, that is the reason I choose japanese tools.
I can say Takami has been really disponible for everyone. Adjusting his teach to each one level. This real and  personnal coaching is so much effecient than any DIY video!
The price for the class looks expensive of course. Generally this is price for 1 year in hightschool in France (like engineering, commercial, health school…).
Of course it could be difficult to afford , but I consider this is normal price for a craftman working a whole month in France (35€/h x 35h/week x 4weeks = 4900€). And 35€/h, 35h/week are minima.
As a professional this is like an investment for me. Whatever the price if I keep the skills for life. What is sure, I absolutely have no regret and I have jumped to another level with Suikoushya school.
Onno van Ameijde (From Netherlands )

For me, the one-month course was a wonderful experience. Being an amateur woodworker with an interest in the Japanese way of working wood I found that even after watching youtube-tutorials and reading some books, I still had a lot of questions about this subject. I hoped that learning from a teacher in the flesh, and seeing the Japanese way of woodworking up close would help me a lot. It proved to be just like I hoped, and more. Takami-san proved to be a very dedicated teacher, who is patient and observant, and very open and generous to share his knowledge and skills. I loved the fact that Takami-san's way of teaching and approach to woodworking seemed to me 'modern' and not traditional in a conservative way. What I mean by this: it felt to me like I was learning a craft that was alive and evolving, with roots in a very long tradition. Takami's way of teaching was very accessible and fast for a Western person like me. I expect doing a traditional apprenticeship in Japan would be much harder and slower. Yet, Takami's spirit and way of approaching things is also very Japanese, and many times I was surprised and inspired by his dedication, concentration, and the deep thoughts behind his skills as a craftsman. I also loved the good humor and group spirit during (and after) the course. The students helped each other learn even more.
Although a month is short in a way, I feel like I now have a very firm and confident base set of skills and knowledge on which I can build further. It helped me a lot to have a few clearly defined learning goals before starting the course. There was very much opportunity to ask individual questions, and with help from Takami to reach your own goals. As the course has a small number of students per group there is much room for individual attention. My advice to future students would be: give as much time, energy and attention during the course as you can muster, as there is no end to the amount of knowledge and growth you can get from this course. Just watching Takami-san while he worked has thought me much already. And, apart from a great teacher, nothing beats working a full month doing just one thing: woodworking. I felt my senses get sharper and more sensitive to small changes, my eyes learned to see better, and my body to work more efficient. To me, it was an amazing and very profitable experience, that will stay with me, and grow, in the future.
"Voor mijzelf was de cursus van een maand een geweldige ervaring. Als amateur houtbewerker had ik al langer interesse in de Japanse benadering van dit ambacht. Hoewel ik veel informatie kon vinden op internet en in enkele boeken, bleef ik met veel vragen zitten. Iedere bron zei weer wat anders, en specifieke vragen stellen was niet mogelijk. Het ging er mij om een solide basis te krijgen in hoe om te gaan met Japans gereedschap waarop ik met zelfvertrouwen kon verder bouwen. Ik was daarom erg enthousiast toen ik ontdekte dat Takami Kawai les ging geven in Frankrijk. Hoewel ik niet zeker wist wat ik kon verwachten bleek Takami een uiterst toegewijde en gedreven leraar te zijn. Hij is geduldig, en houdt zijn uitleg vol tot je het écht begrijpt. Takami heeft een goede leerstrategie uitgedacht en gedurende de maand bouw je je kennis en vaardigheden op. Hoewel er rond veel Japanse kunsten en ambachten een romantische zweem van geheim en mystiek hangt is Takami duidelijk een moderne ambachtsman. Zijn kennis en vaardigheden zijn van de bovenste plank, en stammen uit een eeuwenoude traditie, maar hij deelt ze ruimhartig en met een open instelling (en ruimte voor humor). Hij laat zien dat Japanse houtbewerking een plek heeft in het nu, en te leren is door iedereen. Dat gezegd hebbende is Takami ook een Japanner, en is de hen zo kenmerkende diepgang, concentratie, en gedrevenheid ook goed merkbaar, en zeer inspirerend. Het zien werken van zo'n vakman is al een studie op zich. Takami's Engels is misschien nog niet zo vloeiend als dat je van een gemiddelde Europeaan kunt verwachten, maar dit vormde tijdens de cursus zeker geen hindernis.
Omdat de groep cursisten per maand klein is, is er veel ruimte voor individuele vragen en ontwikkeling. Er is op die manier voor zowel ervaren houtbewerkers als beginners heel veel te leren. Ook ervoer ik een goede sfeer onder de studenten; we hielpen elkaar ook groeien. Los van dat alles: jezelf 100% inzetten en verdiepen gedurende een volle maand geeft je vaardigheden een enorme groeispurt. Vingers worden handiger en gevoeliger, je lijf sterker en je ogen en brein scherper. Na afloop van deze cursus heb ik het gevoel een grondige basis te hebben waarop ik kan voortbouwen."
Lokesha Haber(From Sweden)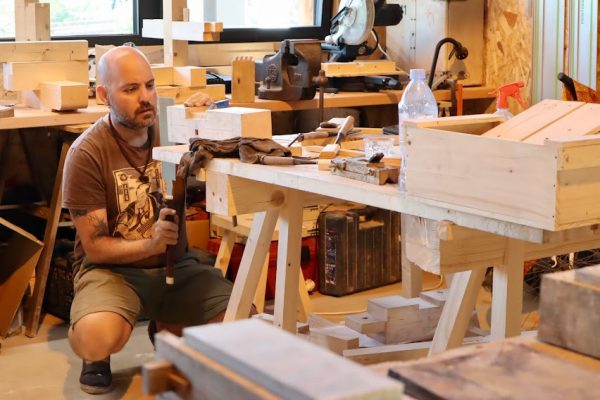 "Challenges I had: I had big difficulties to adjust my 24mm chisel. You told me that it is difficult for beginners with a big chisel. So I thought it would've been good to get more help in purchasing a chisel that is adapted to a beginner. I know that you prefer that we buy our own tools, but it was difficult for me to check which one would be of good enough quality. I ended up learning a lot about sharpening but I confess that at some point during first week I lost a bit of motivation. But then I got a lot of help from you because you were able to understand what I am doing wrong and help me.
That was my main challenge during the course. Otherwise I enjoyed all the classes especially the joint making classes. Where I learned a lot about cuting precisely. And I feel more confident about using my tools. I will continue using the skills in my practical projects. Next one would be to build a wooden frame and a shoji doors for my bedroom."
Roch ROBAGLIA(From France)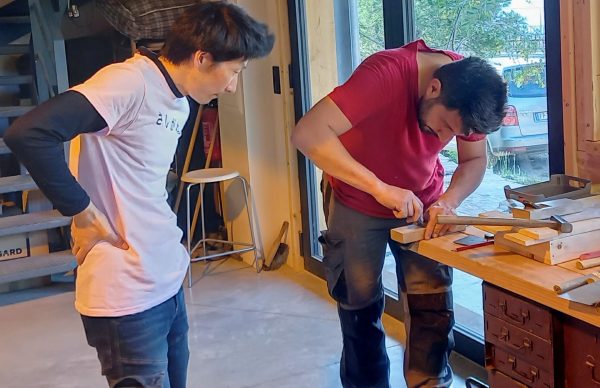 "I loved this month of class. I discovered a lot of things there around the woods but also about me and about another fascinating culture.
I particularly appreciated the balance between the intellectual and practical part.
I admired your patience throughout the court especially with the sharpening. I thank you for your presence and your availability to answer all our questions.Where there is room for improvement: Being a beginner, I may have liked more advice at the beginning on how to hold the tools properly (especially the chisels). I could have avoided damaging them from the start. At the same time it allowed me to live the experience to better understand their use.
The end of the internship (the last 3 days) was a bit strange and seemed less structured as I remained from the internship. Maybe I wanted to do it too much and failed to do it well. Not having finished my last assembly before the ceremony I found it a little strange.
In the end, this internship was really at the top and brought me beyond my hopes. The concepts discussed make you want to practice more and deeply the universe of wood.I am aware of my progress and my shortcomings, especially in sharpening. And that I am just a novice in this field, I am still very interested in participating in the Millemont project to go further. Give me some news on its progress.Looking forward to continuing to work with wood together. Have a good day and good woodworking with your news students :)"
[2018~2020 Kyoto School]
Simon Kuwahata (From Japan)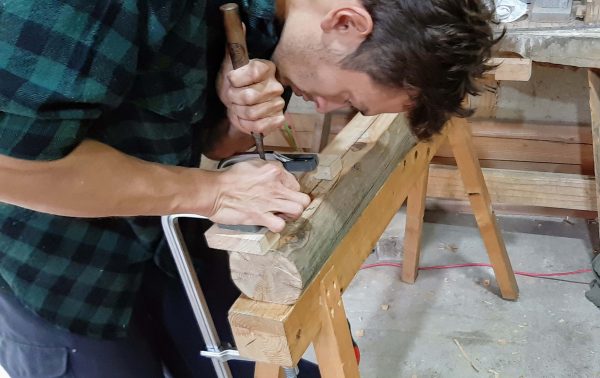 "Thank you sensei Kawai Takami for sharing your Japanese carpentry knowledge to the world! My life long desire of becoming a carpenter has finally taken its path. I always dreamed of one day acquiring the skills of Japanese carpentry so that I can express my self through wood working and carpentry. I have been studying and trying out Japanese carpentry techniques by my self in the past with little progress. At times it can be frustrating because you can not achieve the desired result and also feelings of uncertainty linger all the time as I am unsure if I am actually doing things correctly. Also I have considered apprenticing under building companies in order to fulfill my dreams as a carpenter but this takes a lot of sacrifice such as years and years of dedication to carpentry and carpentry only. I always wondered if there was a school where Japanese carpentry was thought more casually and in a shorter time span. Before when I was looking years ago nothing like that existed which was disappointing, but recently when I started to search again  I discovered Suikoushya. At first sight I knew this was the place! The problem was the school was so popular because of the teaching style and being able to cater to English speaking people the classes were always booked out. Luckily for me I was able to get in due to everyone canceling because of corona virus. Hence I was taught one on one with sensei Kawaisan! When I arrived to the school I immediately felt at peace as the class room was built artistically using Japanese style joi nery and techniques. It felt as though it was a little wood working sanctuary amidst the busy city of Kyoto. Sensei has structured the class so that you progress step by step towards more difficult tasks by building up on necessary skills. Firstly getting to know all about Japanese carpentry tools. The variety of Japanese tools are extremely vast, each with its specific purpose and specific way to take care of it. In Japanese temple carpentry there are so many intricate work being done that require it's own specific tool for that certain job. You will be amazed at the amount of tools sensei will show you in class! For a wood worker it is so mind blowing to see such tools. It is impossible to know every single tool at first so you will concentrate on the most commonly used tools and learn how to tune them and look after them. A big part of tool maintenance  is sharpening. This is important in Japanese carpentry because if the tools aren't sharp you can not even begin to work with wood. So sensei teaches you all about the wonderful world of sharpening. After you master sharpening, you then proceed onto using your sharp chisels to make some nice pieces of wood work. One of which includes making your own Kanna Dai (plane block)! You are also challenged to make various traditional Japanese joinery that require sharp chisels and precision. Sensei will guide you thoroughly through the process with guaranteed results. Ohh the feeling is so good when you get the joinery to fit nicely. On top of all the practical knowledge that sensei provides, I was amazed at his way of thinking towards woodworking. His philosophy obtained through many years of woodworking and carpentry experience is eye opening. He explains in depth about your state of mind while working and how this affects everything. His philosophy somehow also relates to life so I was deeply touched by his words. Experiencing woodworking in Kyoto for one month has deepened my knowledge towards woodworking and also gave me confirmation that woodworking is a skill that I must hone and enjoy. I encourage everyone who is thinking of learning woodworking to attend the course at Suikoushya! It's one of the best experiences I've had in my life!"
Rosie Hernon(from UK)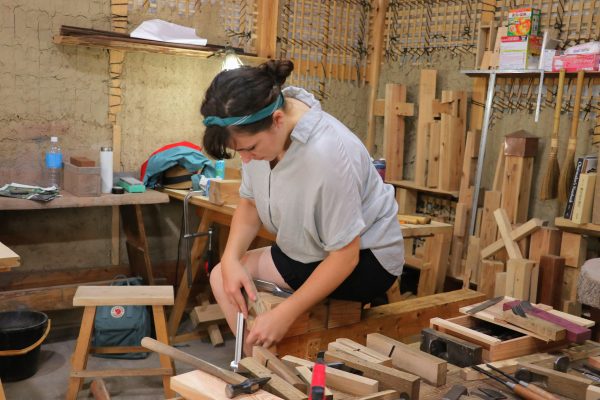 "A month of this course with Takami-san was for me like stepping into another world for awhile. I'm so glad and grateful I had this experience and will be able to carry these skills with me. I can highly recommend this course to anyone who wants to grow their mindset and their skills – you need to put the work in but get so much in return.
Takami-san is kind, patient and very knowledgeable. His english vocabulary is excellent and technical, despite his modesty he can explain concepts very well. He also shows a keeness to share the artisanship of Kyoto – we visited a washi paper workshop plus a blacksmiths forge.
I entered as a total novice not sure what I could complete but excited to plunge in. My expectations were different as for the first week I was focused purely on the tools and their care. Sharpening a chisel for two days was an incredibly humbling experience to say the least, and the learning curve was very steep. At the end of every day I was physically and mentally tired as I was taking in so much information. The achievement of using your own correctly sharpened tools to start working on the next projects is worth that initial shock. It also meant I looked forward to the progress I made and our enjoyment in every thing else we worked on next.
If you are a novice like myself, enter this course with an open mind. You will learn more than you expect, and find it more important and helpful to your progression than you thought it would be. Half the work (and more) when using hand tools  is maintaining and creating tools themselves – the results on your wood working pay back this investment easily."
Romu Gre(From France)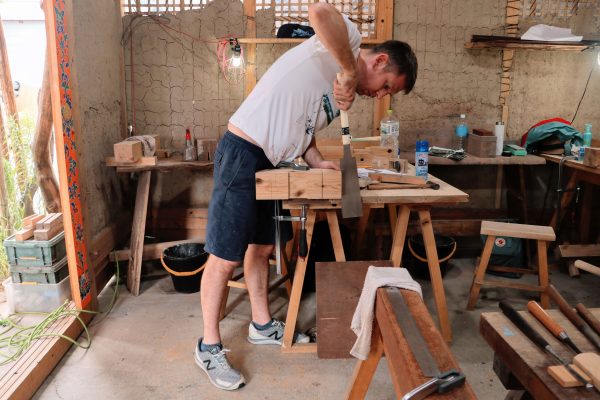 "It was a great experience to do the woodworking course at Suikoushya. I feel very lucky to be able to follow the course in Kyoto.
Takami Sensei is passionate about traditional carpentry, open minded and he was keen to teach and show us the woodworking techniques. I learned so many things as I didn't have much experience with Japanese traditional tools and now, want to step up and use the skills learned during this month.
The environment is great, peaceful, so much to see around Arashiyama (if time allows because days are fully busy learning until late in the evening). Very good time with Sensei and other students and a lot of useful knowledge gained during this month. I fully recommend the course if you have interest in Japanese carpentry."
Javad Tizmaghz     (from Malaysia)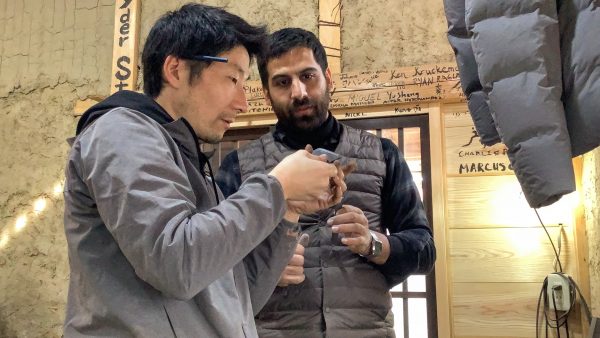 "I looked for a woodworking teacher for 5 years and did not find anyone. Because I wasn't looking for someone who can tell me how shape and joint wood. I was interested in finding my self, understanding life and establish a strong connection to nature. Woodworking is just one way or finding that.
My search paid off when I found Sensei Takami of Suikoushya International School Of Woodworking. And since I met him in Sept 2019 I have not been the same craftsman. I am still at the very beginning of my journey but now I feel equipped and confident to venture on. And it's largely thanks to Takami San.
During my class in Kyoto I had kept my headset on so I can cancel out outside conversations and focus. But Sensei stoped me and asked " Can you hear the spirit of the wood?" And these words will forever stay with me. Because at that moment I was not one with my tools and wood. I was simply imposing my will on to the material. Sensei explained that the music makes you relaxed but not concentrated. Only if you are able to hear the spirit of the wood you can work in harmony with it.
For that and many other lessons you have thought me I will forever be grateful."
Charlie Rivera(From US)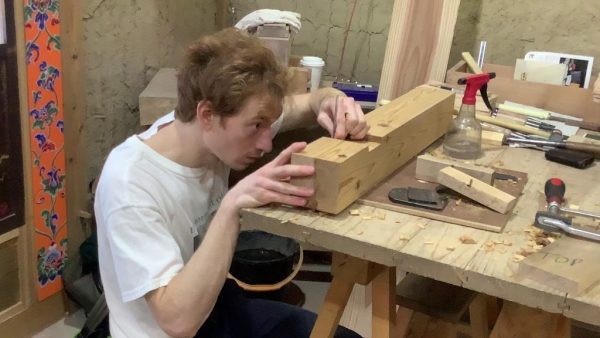 "I attended the Feb 2020 class and It was definitely worth the time and money. Kawai-san is obviously passionate about carpentry and loves to share with his students. He rises to your level and is always going above and beyond to help you explore your personal interests. In fact, he gives his classes way more time than I expected.
The classes are small, only 4 students. You never feel like you are waiting for Kawai-san's attention. Our class ranged from absolute beginners to carpenters with over 8 years experience, and everyone was 100% satisfied with the class//no one felt like they were wasting their time or being held back
I totally recommend this course. ( though it is moving to France in 2021)"
Marcus Chiu   (from Hong Kong)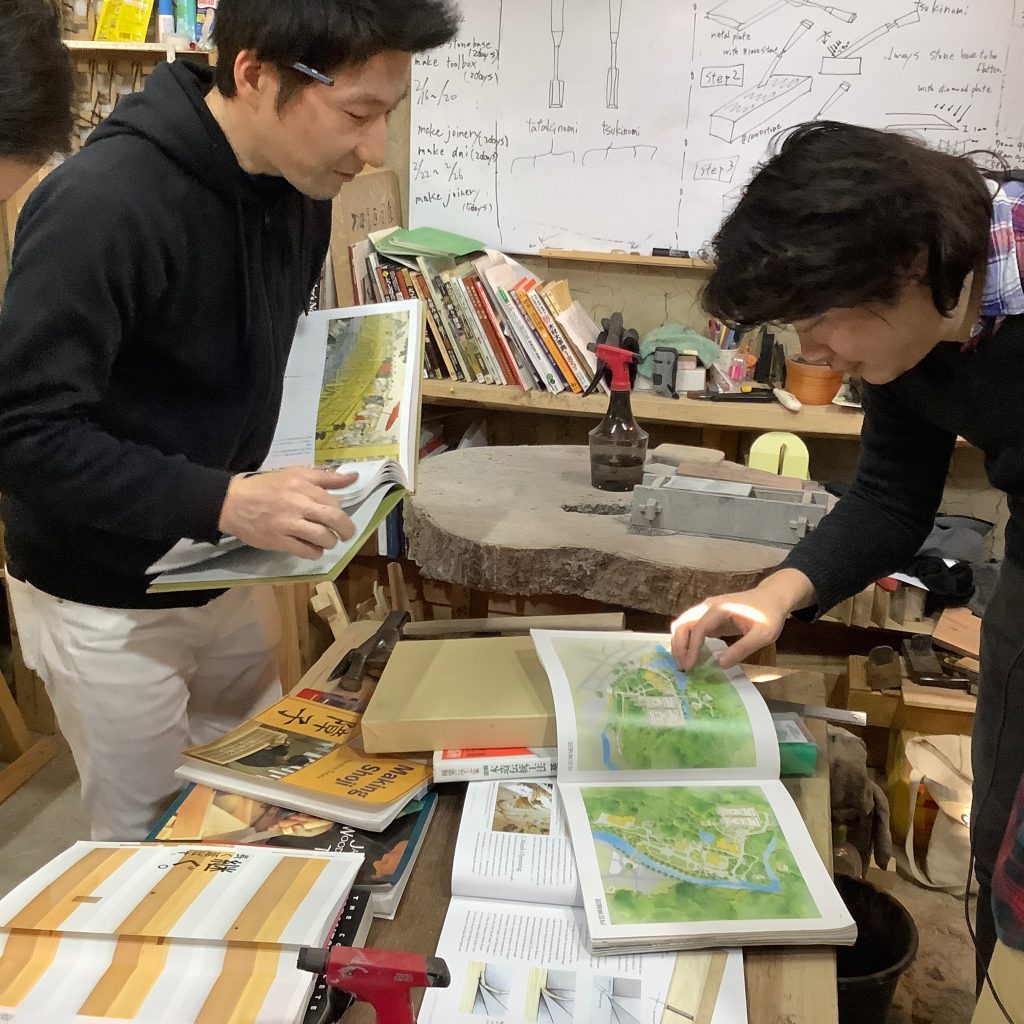 "Suikoushya is a wonderful school for anyone who is be interested in learning first hand Japanese carpentry.
The were 4 of us in the class, who all came from different background and skill level. I am relative new to woodworking myself, having only picked up a chisel less than a year ago, and that wasn't a problem at all. We were able to study at our own pace in a well equipped woodworking space. Kawai always came to the workshop early and stayed late. He was very attentive to everyone of us throughout, and often spend extra time in the workshop to teach and to answer all the questions we had. He even went out of his way to bring us to different places in and around Kyoto, not only to buy tools, but also to visit other places like the blacksmith and lumberyards, as well as to some of the best wooden architecture the city has to offer.
In the class itself, not only was I able learn the delicate techniques and knowledge of Japanese carpentry, but also to develop a deep understanding of the different tools and material, and learnt to appreciate them.
Kawai sensei also shared with us his passion and philosophy behind years of experience in woodworking, and was always engaging both in and outside of the workshop. I was fortunate enough to share the February class with 3 other fun loving and passionate students, and there was never a dull moment during this month long course. Overall, it was a very invaluable experience in learning Japanese woodworking, and most of all an enjoyable one."
Sophie Bastianutti(From France)

En novembre 2019, j'ai suivi l'enseignement de Takami Kawai dans son école Suikoushya International  Craft School, située à Kyoto.
La formation, d'une durée d'un mois, s'est révélée extrêmement enrichissante et très bien organisée.  L'enseignement de Takami Kawai vise à transmettre les méthodes de construction traditionnelles  japonaises et nous fait passer par toutes les étapes, de l'affûtage des outils, au tracé et à la coupe. En  tant qu'architecte, j'ai pu découvrir par la pratique une manière de construire qui ne m'avait pas été  enseignée en France. L'apprentissage se fait au sein d'un petit groupe (4 personnes), ce qui permet à  Takami Kawai de s'adapter au niveau de chacun et aux différents objectifs personnels ainsi que d'être  très attentif au travail produit.
Au-delà du travail à l'atelier, Takami Kawai avait également l'envie de nous faire découvrir le travail  d'autres corps de métier tels que la fabrication des outils en métal ou du papier japonais. Ces visites  sont de vraies initiations à la culture japonaise et témoignent de l'ouverture d'esprit de Takami Kawai.
nt important financièrement et personnellement. Ouvrir une école en France lui  permettrait de transmettre un savoir ancestral qu'il est très difficile d'aquérir en Europe.
Je ne peux que recommander la mise en place du projet de Takami Kawai.
Santeri Venha(From Finland)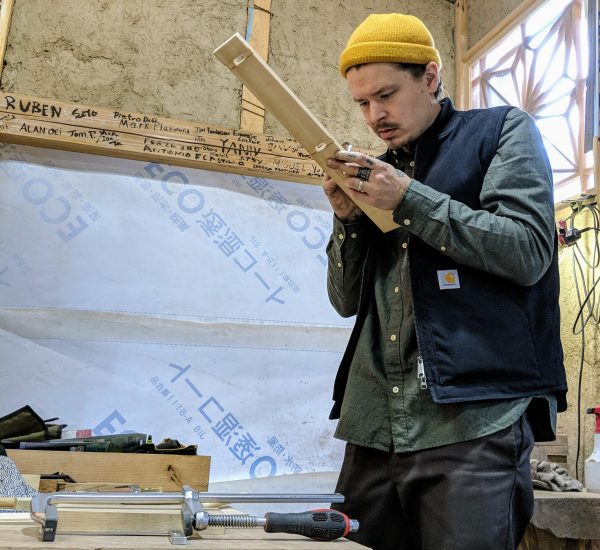 "I travelled to Kyoto and Suikoushya with a great eagerness to learn the secrets of Japanese woodworking. I cannot praise the one month woodworking course at Suikoushya enough. Since attending the intensive one month course at Suikoushya in November 2019 I have started my own woodworking business as a furniture maker. Not a day goes by that I don't reflect upon the teachings I learned at the school. I learned skills and methods of working that have brought a new level of focus in my work and I will continue to apply and develop these skills for the rest of my life. I feel I have built a whole new foundation to my work after studying at Suikoushya.
Teacher Takami Kawai is the most dedicated teacher and carpenter I have ever met. His passion and enthusiasm to woodworking is overwhelming and the precision in his work is a great inspiration to me professionally. Takami's apprentice Dylan Iwakuni was also a great help during the course and he shares the same passion to woodworking with Takami.
I highly recommend Suikoushya to anyone interested in Japanese woodworking and woodworking with hand tools especially. The tradition, techniques and precision needed in adjusting, sharpening and using Japanese hand tools is something I believe would be very hard to learn without a good teacher. At Suikoushya you can acquire a great understanding to the foundations of Japanese woodworking and you can learn a skillset that you can use and develop for the rest of your life."
Aitor Hernandez Azkueta(From spain)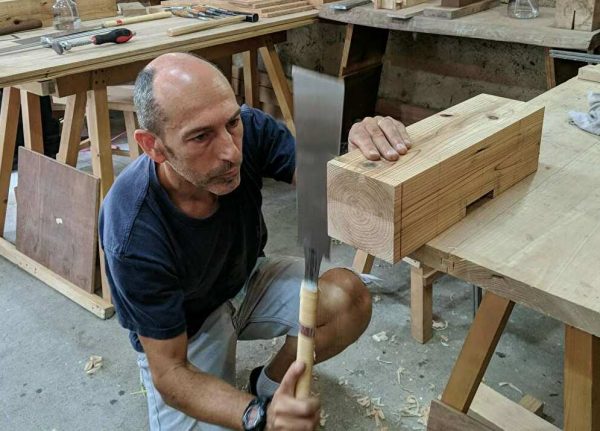 "Attending the one-month Traditional Japanese Woodworking course in Kyoto during July of 2019 was an experience I will never forget. From the deep knowledge and expertise shown by the sensei, both in theory and practice, to the working style and the good friends that I made from my classmates, it was all a complete success.
"The smell of the wood, every completed exercise and the smile of all the people around me, made me enjoy every minute"
Previously busy with my work I can remember getting there with little practical experience on woodworking but leaving Kyoto, still being a beginner, but with confidence and my mind ready for any kind of woodwork challenge.
Kawai-san, our sensei, being a 宮大工 (Miyadaiku) or "Temple carpenter" he seeks the perfection in his work and this perfection is the path He transmitted to us. His knowledge is deep and every day we were having some theory that could be extended at any time with further explanations. He was always willing to share his knowledge with additional material, whiteboard drawings, books or any mean he considered easy for us to follow. Thanks to Dylan, sensei's co-worker, we could get all the explanations translated into English, and for those with some Japanese knowledge it is the advantage to hear the explanation first in Japanese and later on in English.
Moving from the theory to the practice, taking care of your tools and having them in the optimal shape to achieve the optimal performance was an every day lesson.  You can't do a good an efficient work without having the tools ready. Bloody fingers from sharpening where a constant in our daily work, but feeling the smooth job that the chisel or the kanna can do when they are sharpened and perfectly set is nothing you can understand until you try it and you compare towards a not ready tool. Sensei was
really strict in this matter, thanks for that sensei. We had the chance to try the Kanna that sensei was using in the Kanna competitions and I can't describe the feeling when using it and the efficiency of the cuts. I still remind all the jokes we made my classmates and me about our fingers while having a beer in the neighborhood izakaya. Now, I spend a good time to prepare the tools, enjoying it on my own pace, it is worth!!!
By Having the tools ready we were ready to start touching the wood. I got introduced to Japanese joinery, a very advanced joinery, that you can't learn in one month but, I got the basics to continue digging into it on my own. I can't avoid entering Japanese houses or temples and try to imagine all the joints used and the reason for using that joint in that place. As sensei told us, a Japanese carpenter trends not to show the joints what makes complicated to clearly see all them and understand its complexity.
From the practical exercises we did, all by hand, the usage of perfect jigs, with explanations on how to do the work and through the daily work You go gradually discovering the skills to address precise tasks. You can work at your own pace and it is important that you complete the tasks, but You are not over until You get the PASS from the sensei. You could think you are finish but, this is not yet flat enough, or, where is the marking? or, there are small gaps here or there… yes, I also learned about how to check the job, carrying continuous check and not rushing the job. I always had plenty of homework that I could carry on at the end of the day and during the weekends. The school was always open to us.
Since then, I have been doing some small projects on my own with the skills and confidence that Suikoushya gave me to keep learning through the practice and I keep in mind what sensei told us, "I will teach you the perfect way, by this, you will know what is possible and you will be able to judge in your projects the level you want or can achieve."
Thomas Trad(From Lebanon)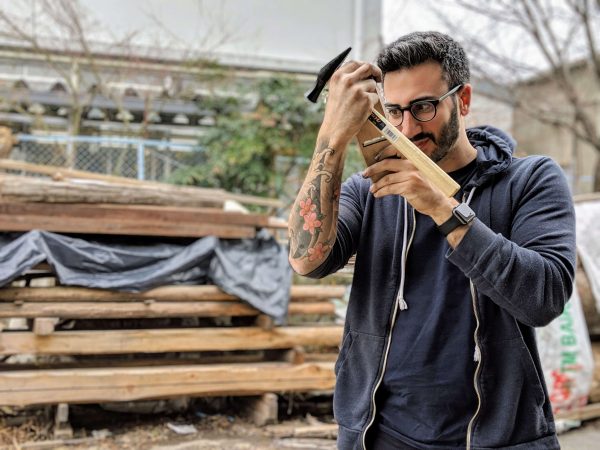 "To whom it may concern,
The one month course spent at Suikoushya was probably one of the best experience I had and a memory I will never forget. Of course the class wouldn't be the same without Takami, the enthusiasm he has talking about the craft is out of this world. He's super knowledgeable, patient, and an amazing teacher.
The one month class is divided in 4 parts. We start by learning how to use, take care, and look after the Japanese
woodworking tools before moving on several project from making a tool box to very complex joinery. An hour sharpening chisels on a wet stone is better than any meditation.
I came back home a month later having learnt so much more than just woodworking techniques. It opened my eyes and heightened my critical thinking when working on different projects.
I would recommend anyone who has a passion for the Japanese culture, woodworking or in the field of design and architecture to take the class."
Robert Prentice(From UK)

"By profession I am a furniture maker based in London having started my business around 2010.
During this time it has always been my aim to develop a skill set that went beyond the traditions of European woodworking and furniture making.
After years of searching I discovered Takami Kawai's school Suikoushya in Kyoto. It was the first set up I had found that allowed me to learn in depth the foundations of Japanese joinery without committing myself to live in Japan for 4 or more years.
The course at Suikoushya was a month long intensive introduction into the techniques and philosophy of Japanese joinery. Takami had us set up in his workshop in Kyoto with each of us at a workstation of our own. All raw materials were provided for as well as access to his own tool collection. Before any of our own tool purchases were made we had to learn about the individual tools and their purposes. Over the course of the month I was able under Takami's guidance to build and purchase a Japanese tool collection that would put me in perfect stead for the tasks he had designed for us as well as continuing my journey into Japanese Joinery back in London.
The design of the course was intensive but perfectly tailored to maximise the opportunity to learn new skills, techniques and joints. Takami was supremely assisted by his apprentice Dylan Iwakuni. Between the two of them there was never a moment when a question would not be
answered or a demonstration repeated for the benefit of the students. Their enthusiasm for the craft was infectious. It was a huge privilege to learn from Takami's vast experience and to talk and share ideas so freely about a world that for me had been somewhat behind closed doors.
Our learning was not just limited to the rigours within the workshop. Trips to toolmakers, markets, other master craftsmen, temples and other famous/notable examples of Japanese woodwork helped massively to reinforce techniques and philosophies we were practicing in the
workshop.
I couldn't recommend the course more highly for anyone that is serious about learning the skills of traditional Japanese joinery. It would not be an over exaggeration to state that since taking the course my approach to my profession and business has dramatically changed direction. It is truly an extraordinary opportunity to learn from a true master of his craft who is as hungry to share his knowledge as he is to keep perfecting his craft ever further."
Rubén Martínez Peral (From Spain)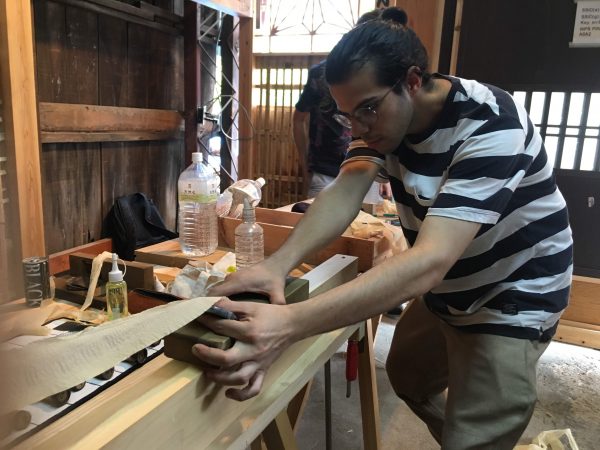 "I enrolled Suikoushya after working as a carpenter in Japan for a year. During that year, I was only working in a way similar to how you work in Europe, surrounded bymachines. When I took Mr. Kawai's course, for a month, I learned far more than during the entire previous year working as a carpenter. !en I graduated as an architect in 2019,in fact, the knowledge I acquired in the field of architecture, helped me later to write my
graduation thesis, on the use of solid wood in traditional construction.
What interested me most about Suikoushya was the fact that it is open to anyone who had an interest, be it carpenters, cabinetmakers or architects. From a very basic level, Mr. Kawai teaches you the use of hand tools that have great complexity, and more importantly how they are set up, a complex process that allows the tools to work with surgical precision. Once you have learned how to use Japanese tools correctly, at Suikoushya they teach Japanese architecture and how wood is used to build that
architecture, some field which is the key to understand Japanese woodworking, and few literature can be found. Later they teach the making of wooden joints that are necessary to construct traditional Japanese buildings. All these teachings are a compendium that is difficult to access, even in Japan, where to this day I only know Suikoushya as the only place where they teach in English. !e course, in my opinion, is very complete, it offers useful advice on how to develop professionally as well as delving into such a hermetic culture, such as traditional Japan. As for Mr. Kawai, he is a teacher, he is a man with a generous and clear will to teach, he tries to solve any doubt and is always willing to give you everything he knows. He worked on the construction of the Ise Shrine, the most important temple in Shintoism, which is built every 20 years. Only the best carpenters are hired to build the sanctuary. All that experience, Mr. Kawai tries to transmit through his classes, and that is why I consider that studying with him was one of the best decisions I made in my professional development.
When Mr. Kawai told me that his intention was to move to Europe to be closer to his students, I thought it was very generous of him. It is true that the course in Japan is not available to everybody, first because you have to travel there, and on the other hand the price of tools and life is expensive. !at many more people can access this type of teaching seems almost a gift and I think by coming closer to his students, Mr. Kawai will make it possible."
Harry T Morris(From UK)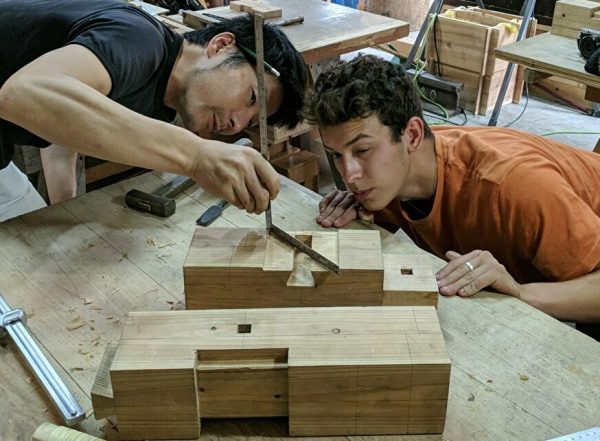 "I took part in a 1 month intensive Japanese carpentry course with Takami Kawai in Kyoto, Japan in August 2019.
After studying historic craft practice furniture making in England and developing my own collection of furniture inspired by Japanese craft discipline and aesthetic philosophy it felt like a natural next step to study in Japan. I wanted to experience the discipline and precision of Japanese carpentry in person and Takami showed and taught exactly that.
Spending 30 days in a small workshop in Kyoto in the summer was a challenge physically due to the heat and mentally because of the focus required in the work but it was no doubt worth it. I feel I learnt so much in this short time, not only learning about Japanese tools and how to care for and maintain them, or the techniques used to make precise joinery but also about how I work myself; and how I can work. Takami taught me
focus like I have not experienced before, he allowed me to develop my patients and truly refine my skills to a higher level.
Takami taught the course in Japanese and it was translated live by his colleague Dylan Iwakuni – this worked really well. By Takami teaching in his first language it allowed him to focus on the important concepts he was teaching and Dylan could translate this into English for us to understand. The two of them together created a focused yet welcoming and friendly atmosphere in the workshop.
My time at Suikoushya with Takami and Dylan has benefited me and my career more than I ever could have imagined it would, and I have recommended multiple people go and study with Takami; it was an experience I will never forget and I have achieved things I couldn't have without it. I have been in regular contact with Takami and Dylan since
graduating, there have given me continued support and advice as I begin my journey into working for my own company traditional furniture making."
Antonio Castillo(From US)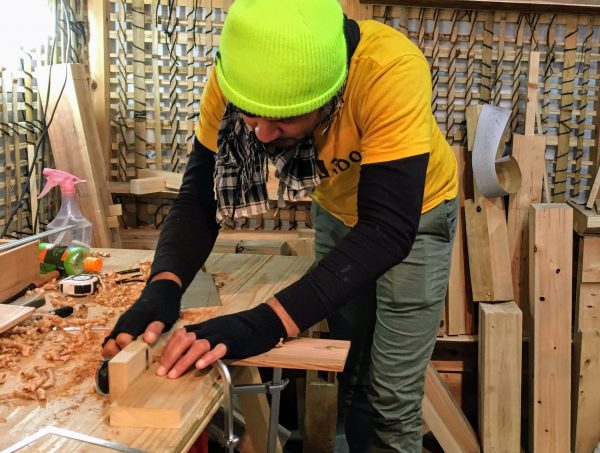 "It is great pleasure of mine to write this brief note of my experience in Suikoushya International Craft School in Kyoto. I participated in this course back in December of 2018 under the guidance of Sensei Takami Kawai and his assistant Dylan Iwakuni.
In my mind, it will undoubtedly take an extensive writing to recapitulate my full experience of this course, so rather I will give a mighty glance and the reason why I favorably recommend this course for anyone who wants to learn fine woodworking from one of the best ambassadors of Japanese traditional carpentry in the world; Sensei Takami Kawai.
Prior to this course, I held none experience of any type of woodworking, however this was not obstacle to pursue my dream of studying woodworking in Japan. The curriculum of this course is well-designed to accommodate all types of experiences in which the student regardless of their woodworking skills will methodically attain skills and knowledge in a series of comprehensive lectures, and hands-on practice of various Japanese joinery projects.
Again, coming from a background of no woodworking experience, I found myself realizing that as I progressed with each week, I was bettering my woodworking skills aside the nuances with the techniques and joinery methods. Furthermore, I embraced the philosophy of this tradition of first hand when walking around perdurable shrines and admiring the joinery and its quintessential beauty that makes these many shrines still standing in Japan. What continues to make this course memorable in my opinion, is Sensei Takami; a devoted master of this craft, who is submerge in his teaching a tradition that is so honorable, and times very guarded in Japan, to anyone in the world. Whatever your level is when you join Suikoushya International Craft School, you will return home with traditional woodworking skills and the philosophy of traditional Japanese carpentry like no other course in the world.
I would like to finish by stating in this brief note that I consider myself fortunate now to be called an alumni of Suikoushya International Craft School (SICC), and my hope that you will too."
Miguel Sotos(Fron spain)

"Since November I had time not just to think about the experience that I had but to see how for the following months that experience changed my perspective and views as a professional and as a human being. There are many previous reviews that express perfectly the experience that you could enjoy in Suikoushya. I would like to point few other aspects to make the approach wider.
First of all Takami and Dylan treat you with maximum respect, as an equal, even though the huge knowledge between them and us is something immeasurable and you could be easily overwhelmed about it and culturally exist some differences and feelings that foreigners maybe cannot notice in the begining. By this approach to education and knowledge transmission you always seem to feel some kind of special trust in yourself during the course and that is because they also think that if you go through a calm process you can achive many things that you dont even consider. There is always a positive attitude. That trust in you even if you dont even prove to be able to do something is completely different from what I experienced in other learning experiences. That is maybe why all students at their own pace finally learn equally despite their skills and goals achieved at the course.
Also, I found that besides all the skills and woodworking knowledge that you could achieve, there is some happiness behind all the work that you can reach by paying attention at how they work in front of you or how they think. Even they are there to help and teach, you can continue learn about a life philosophy and that is maybe more valuable than anything. How to prepare yourself to work, how to get to your workplace, how to empty your mind while working and focus on the importance of what you are doing, how to be really precise without pushing yourself by enjoying every moment of the process. Those things are something that you can extend to whatever you do in your life. I truly believe that in Suikoushya you dont learn only about woodworking but about how to understand something that brings sense to a whole life.
I recommend Suikoushya without a doubt to everyone who feels that they will enjoy this experience. It would be even better than any of your best expectations."
Emeric Leclair     (from France)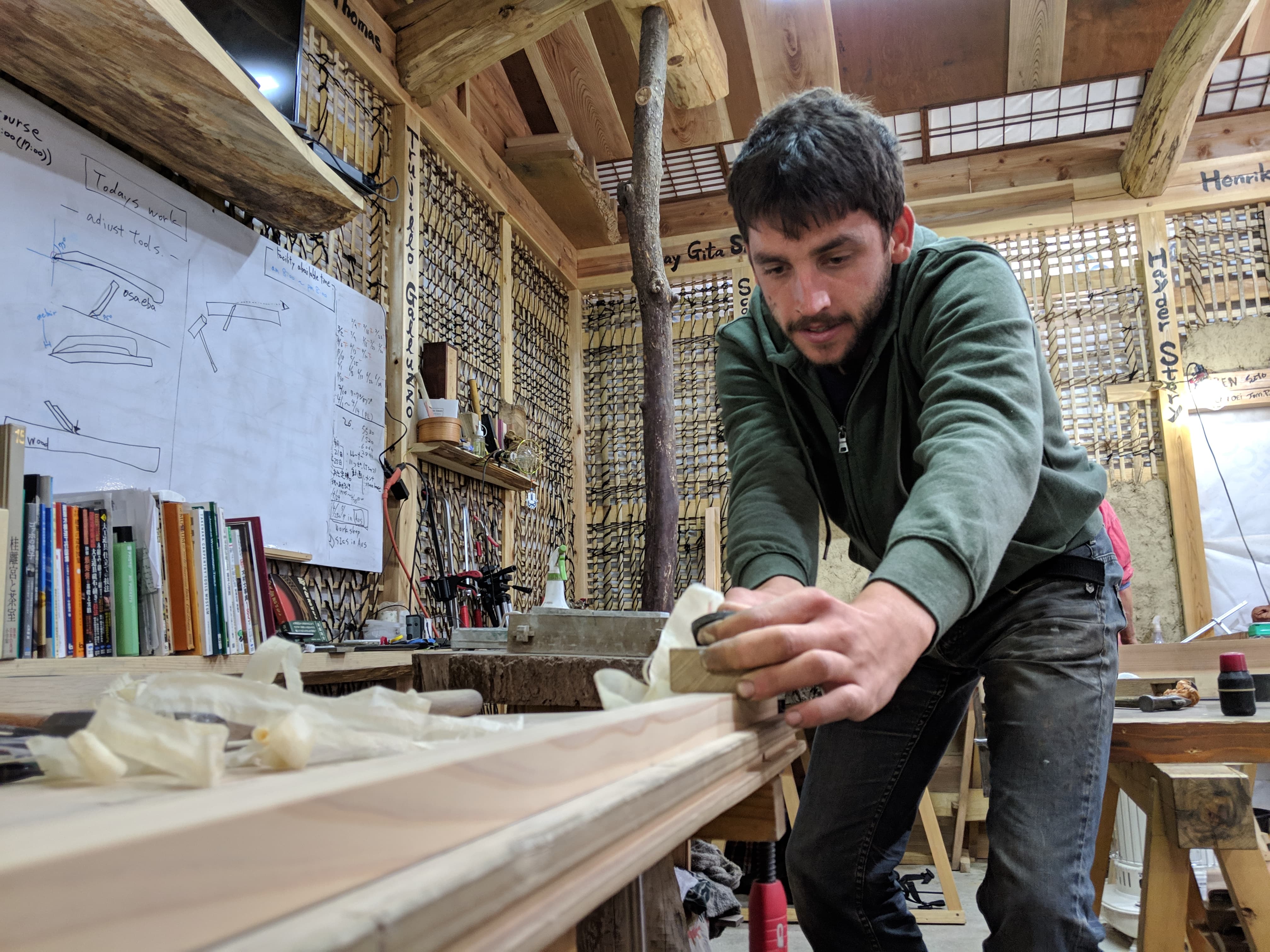 "I spent an amazing month in Suikoushya during the February 2019's course. I have learned about tools and how important it is to have tools setted correctly. I think since I left the school I have always used that principle in my everyday life and also in my work as an engineer. I have also learned the best way to build in the most sustainable way whilst collaborating with the nature and not against it.
Takami and Dylan are very nice and respecful peoples and craftmen. I advise everyone who want to MAKE THINGS instead of buying things to participate to Suikoushya courses, it will be one of the most sustainable investment of your life."
Seto Siu Keung (From Hong Kong)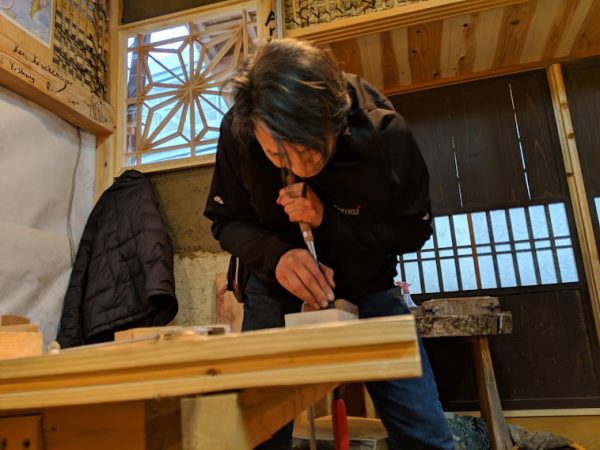 Please find this as a personal reference or review of the above named woodworking school in Kyoto, Japan. I had attended the joinery woodworking class in January 2019. During the four weeks of intensive tutorial, I was deeply impressed by the professionalism, skills, knowledge as well as the attitude towards the traditional Japanese craftsmanship. The course included basic knowledge and technique in handling working tools and equipments, knowledge about the wood, design and making of basic Japan joinery. Throughout the course, teachers exhibited the highest standard of technique and the strictest requirement in traditional Japanese craftsmanship, which I think benefited me a lot. The course further aroused my interest in woodworking and also raised my perfectionism towards any tiny tedious things in daily life and career.
Nancy Hsieh    (From US)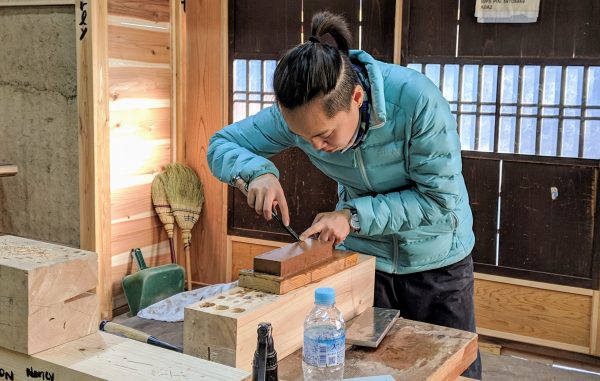 "When I discovered Suikoushya's Kickstarter, I pledged for the opportunity to learn something new. I am not a carpenter by any stretch and truthfully I knew so little about hand tools that I even had to learn how to use a saw correctly. But none of that phased Takami and Dylan. I feel that they truly enjoy sharing their world with others.
However, my main takeaway from the half-course wasn't the tools or the techniques but rather Takami's philosophy – his way of doing things. By paying attention to the details and keeping at it, even I was able to create a joint I was proud of and all the while having fun.
I definitely recommend Suikoushya for people of all carpentry levels. The learning environment is one of the best."
Jonathan Fenderson  (From Australia)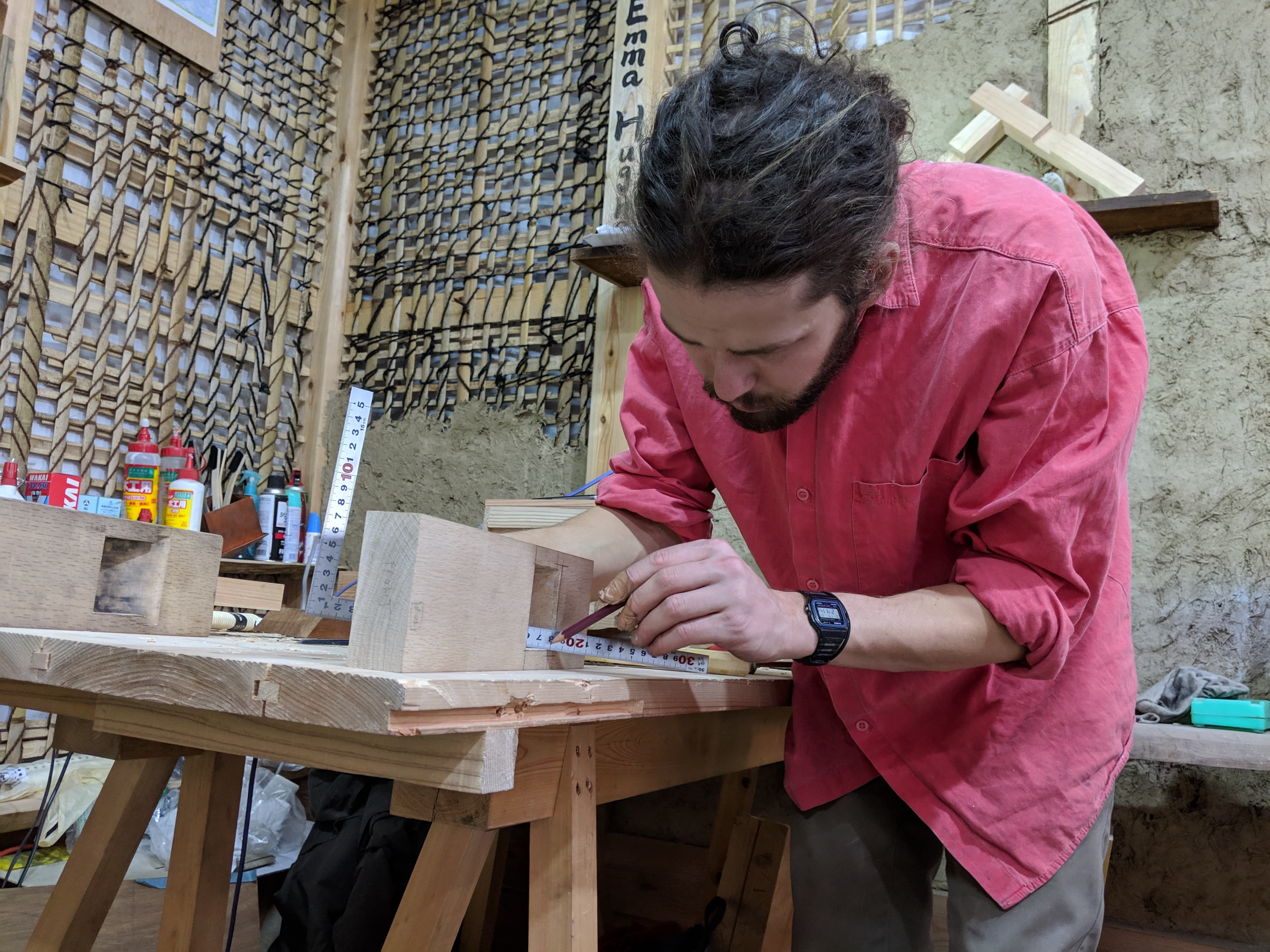 "The month-long woodworking course at Suikoushya International Craft school is a fantastic introduction to the art of traditional Japanese joinery. The course provides an introduction to both the tools and techniques of Japanese carpentry. Sensei Takami Kawai and translator Dylan Iwakuni are great teachers as well as fantastic carpenters. Their knowledge and love of Japanese carpentry and the traditional tools is infectious.
At the end of the month, I had developed an understanding of the technique and philosophy behind Japanese carpentry, and had bought a lot of cool tools! In undertaking the month-long course at Suikoushya I have developed skills that I will continue to apply to my woodworking practice for the rest of my life. I highly recommend this course!"
Alan Oei  (From Singapore)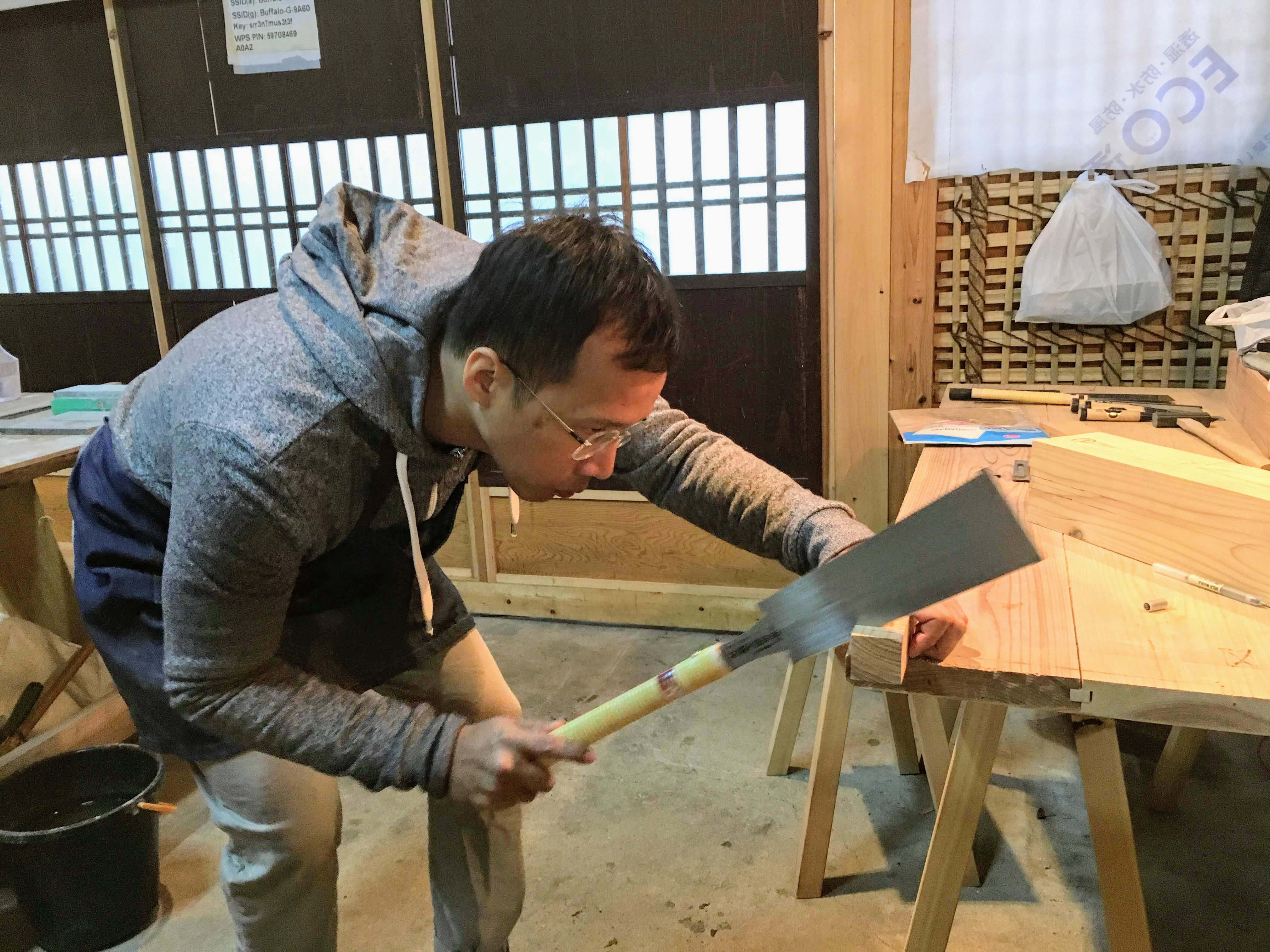 "To try to fill in what the other reviews missed: there's a curriculum of sorts and official class is daily from 9 to 3. However you can and probably should stay back a few hours. I personally stayed on average to about 7pm. Sensei is usually around til 5 and is there with you in spirit and body. To give an example of how dedicated he is – when I made a wrong cut a day ago, he reminded me to adjust the other part. I totally forgot but he was able to remind me.
Curriculum wise: Week 1 is sharpening and adjusting tools. Very painful and mentally draining but absolutely critical with the sensei the to guide you along when you're lost in the cloudy haze of seeing your own reflection and wondering if you're doing it right or going further down hell. Week 2 you start practising your saw, chisel and plane through practical work. You will make a tool box and a whetstone base, and your fundamentals should be improved much and you'll see how everything is connected. The muscle memory for sharpening tools translates into chiseling or paring for example.
Week 3 to 4 you work on joinery at your own pace and also learn new techniques in addition you will ignore or forget some of the principles you learnt and the wood will not let you forget where you screw up. There are up to 10 basic joinery types but most students get up to 4 or 5 only I heard (I only got up to 4). Each joinery by hand takes 1 to 2 days to complete and is immensely satisfying when the parts come together."
Mark Plakotoris  (From US)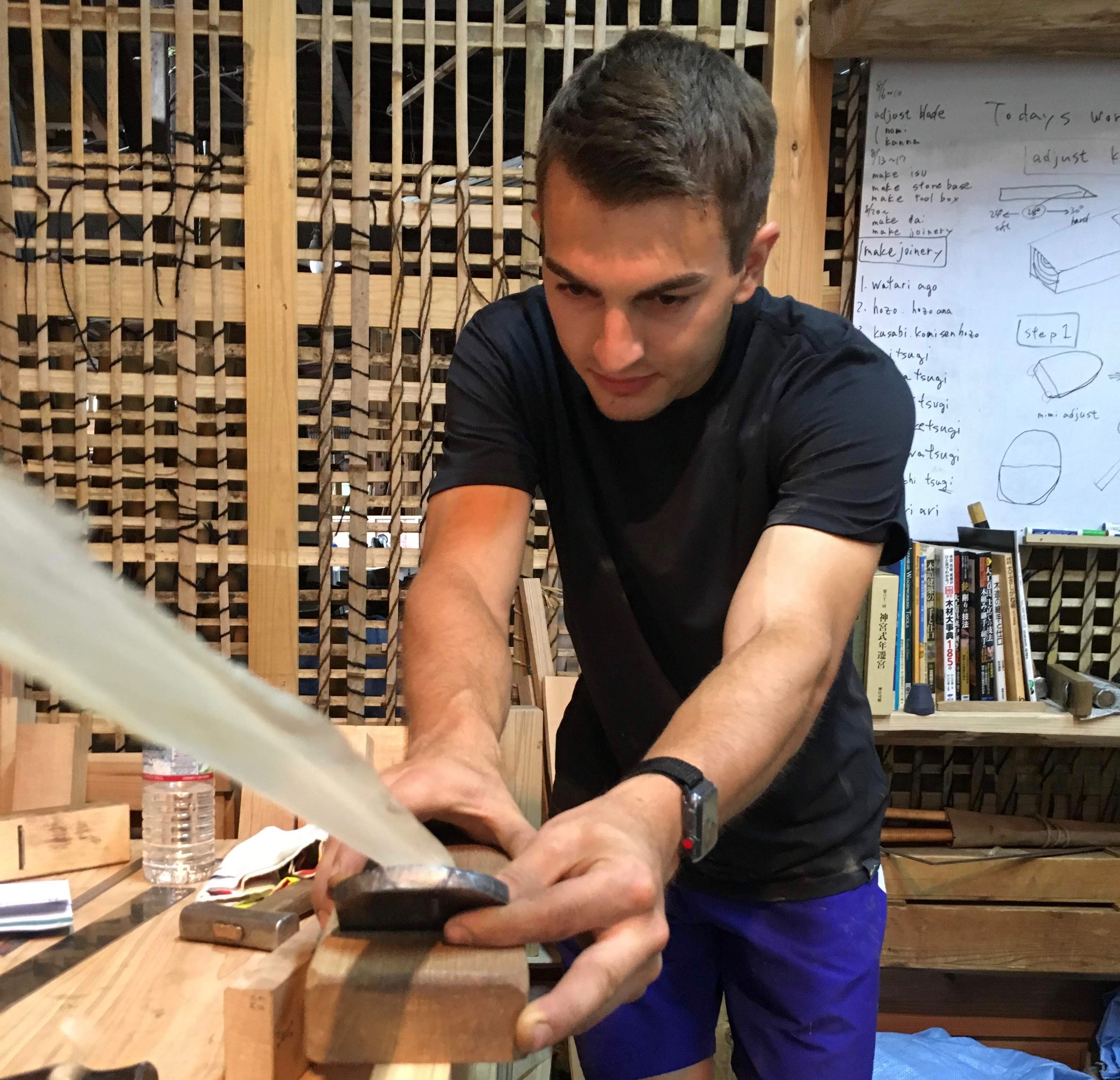 "It doesn't matter if you're a novice or an experienced woodworker/carpenter, if your serious about learning Japanese woodworking look no further. You will learn a lot and your skills, patience, and willpower will be put to the test.
Being an experienced furniture maker, I came to Suikoushya with hopes to learn some of the staples of Japanese woodworking like using the various Kannas and understanding the joints. Sensei Takami Kawai, and apprentice translator Dylan Iwakuni taught us all of that and much much more. We had lessons on wood grain structure, harvesting, native Japanese species and tree selection. They brought us to many tool shops to purchase Kannas, blades, chisels, hammers, saws, sharpening stones etc. We were taught how to setup and maintain, and use everything we acquired. One day we traveled to see some local blacksmiths who were very nice and demonstrated how they forge chisels from raw steel. We visited their shop a few weeks earlier to buy a few speciality chisels, so it was awesome to see them being made.
I really liked the format of the school, and I think it worked well for our group. The classes ran from 9am-5pm, however we could come in to work from 8am-8pm which is what I did most days. This way we could catch up on tool maintenance and sharpening, or work on joints and other projects. Believe me, there was always work to be done and not enough time.
The area around the school is very quiet and pleasant, there is a children's school and art college nearby. There is plenty of cheap good food within a block or two and a 7-11 within a 3 minute walk. Even at night there are a handful of Izakaya's within walking distance that are good for small groups, delicious, and affordable. Arashiyama is about a 15 minute walk away with tons of restaurants and a few temples. If you're interested in any of the locations shoot me a message and I can send you addresses.
I can't recommend Suikoushya enough. If your on the fence about signing up, you're wasting your time, because this is a once in a lifetime experience. Sign up before all of the spots fill up!"
Ruben VL (From Belgium)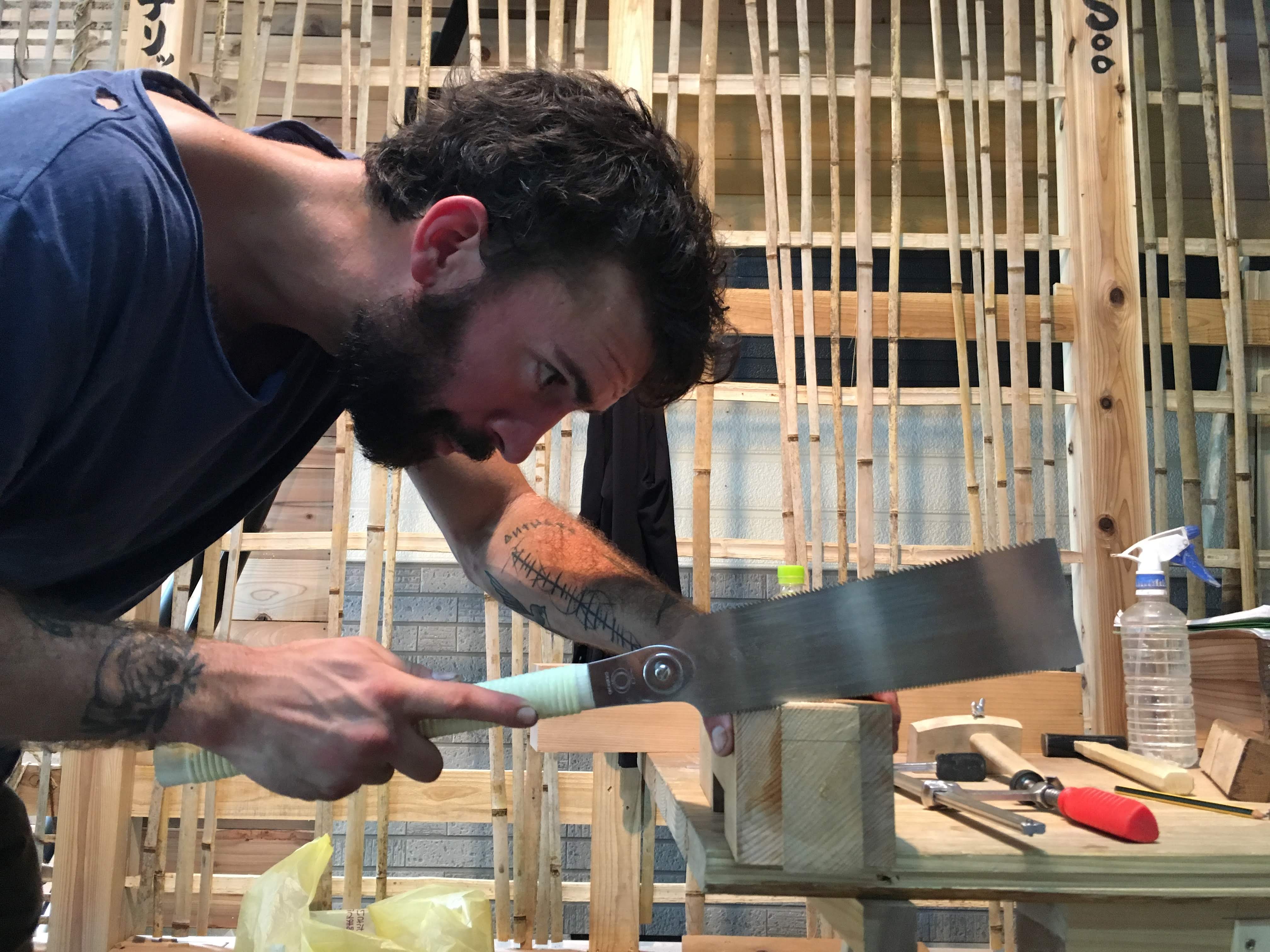 "Since I was completely new to Japanese woodworking and only had little experience working with western hand tools, I arrived in this school with big expectations but also with a feeling that my beginner level wouldn't allow me to get the most out of the course.
Nothing could be further from the truth.
The first day, Sensei Takami Kawai, Dylan Iwakuni and myself sat down to talk about my experience, my expectations for the coming month and what I wanted to do with the knowledge I gathered at the school afterwards.
We made a very personalized schedule, based on my skills and expectations.
Since my future is headed towards furniture making, Sensei always kept this in mind and gave me the best advice on which tools were more suitable for me, which skills were most important and what I should practice afterwards as well.
Only three months old, the school was already very professional. A combination of seeing Sensei's technique, very elaborate explanations with the help of Dylan, videos and step-by-step plans on the school board and also room for practice by myself ( because a lot of the time it also comes down to repetition) made this a very pleasant and efficient way of learning the basics of Japanese woodworking. Sensei is obviously an amazing craftsman but also a great and patient teacher.
I should also mention that while the course is officially from 9am to 3pm, I could be there from 8am to 8pm. And in those later hours, I could always ask Sensei or Dylan a question.
Outside of the school we also went to various tool shops, lumber shops and had an amazing day in the countryside, watching a blacksmith making the tools that were later on used and seeing the effort that goes into making a traditional hand tool made me appreciate them even more ( and the importance of maintaining my own tools in the best way possible).
So as I said, I started as a novice and went back with a strong foundation in Japanese woodworking but through contact with a student that came before me and is on a higher level as me, it is obvious that this course is suitable for anybody with a passion for Japanese woodworking, no matter what level you're on.
Something that Sensei told me various times throughout the course, proves to be true. During my stay there but also afterwards, you get to meet other people with a great passion for Japanese woodworking and by sharing your experiences, it becomes a lifelong, wonderful journey."
Johanna Lee  (From Singapore)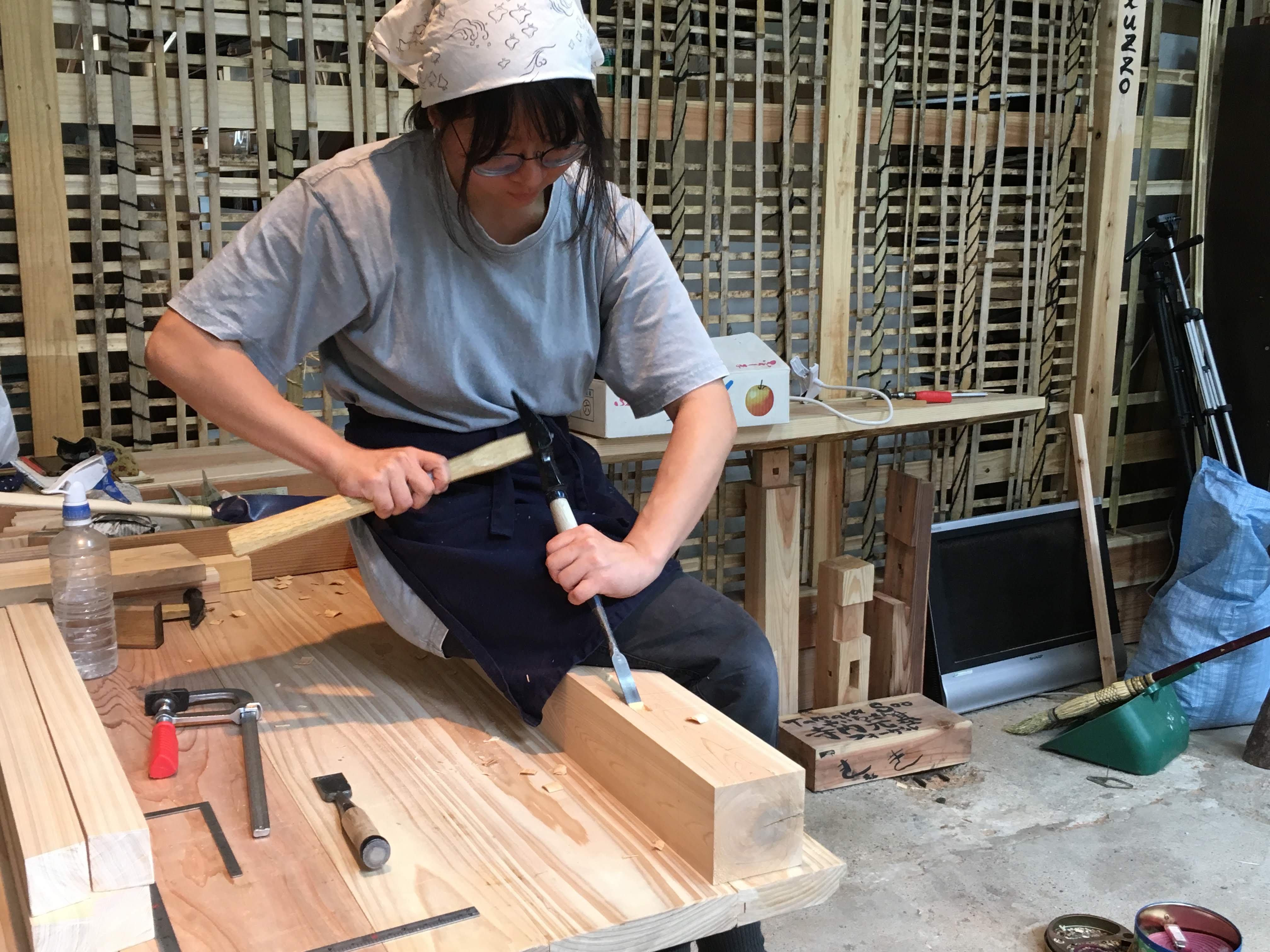 "In Kyoto, my teacher was this Miyadaiku (shrine carpenter), and his deshi (apprentice)…" Begins the story I have retold many times. The time in Kyoto left a deep impression on me. I had come to Japan wanting to understand the spirit of craftsmanship and gain technical skill. The course had exceeded my expectations.
Projects are planned in a progressive manner so that skills build upon each other. At the end, you will be equipped with fundamentals of tool maintenance, understanding wood, and hand-tool techniques to make joints. While you probably won't have enough time to finish all the joints on the list, Ithink the foundation is there to take it further yourself. Learning happens through a variety of means – there are real life demonstrations, videos, drawings and a lot of self-practice. I liked the emphasis on caring for tools and keeping them in the best of condition. It is a practice of self-discipline so essential in craftsmanship. In today's world where many things are measured in terms of convenience and short-cuts, it is precious. And best of all, the teachers embody what they teach.
Other than the time in school, you can also go for your own "enrichment lessons": visiting the tool shops around, craft museums and exhibitions in town, carpentry museums, Suikoushya workshops etc. Since Kyoto is a craft center, it's a good location and offers a full experience. At Suikoushya, the teacher you learn from is someone knows his craft in both mind and body – as opposed to a teacher where there is a disconnect between what he teaches in theory and what he can actually do. Sensei also has a unique background having worked in Ise Jingu. He is someone who possesses valuable experience and skill.
Sensei and Dylan are a rather enigmatic team – while they are dedicated to and love traditional woodworking, their worldview is very broad and forward-looking. They are very open minded and not once will you feel a wall between yourself (as a foreigner) and them (as Japanese). For anyone committed to this craft, if it is within your means, you should really go for it. Traditional methods and living persons practicing it are becoming rarer. While such knowledge is still alive, you should take this chance of a lifetime to learn it."
Alvan Koh (From Singapore)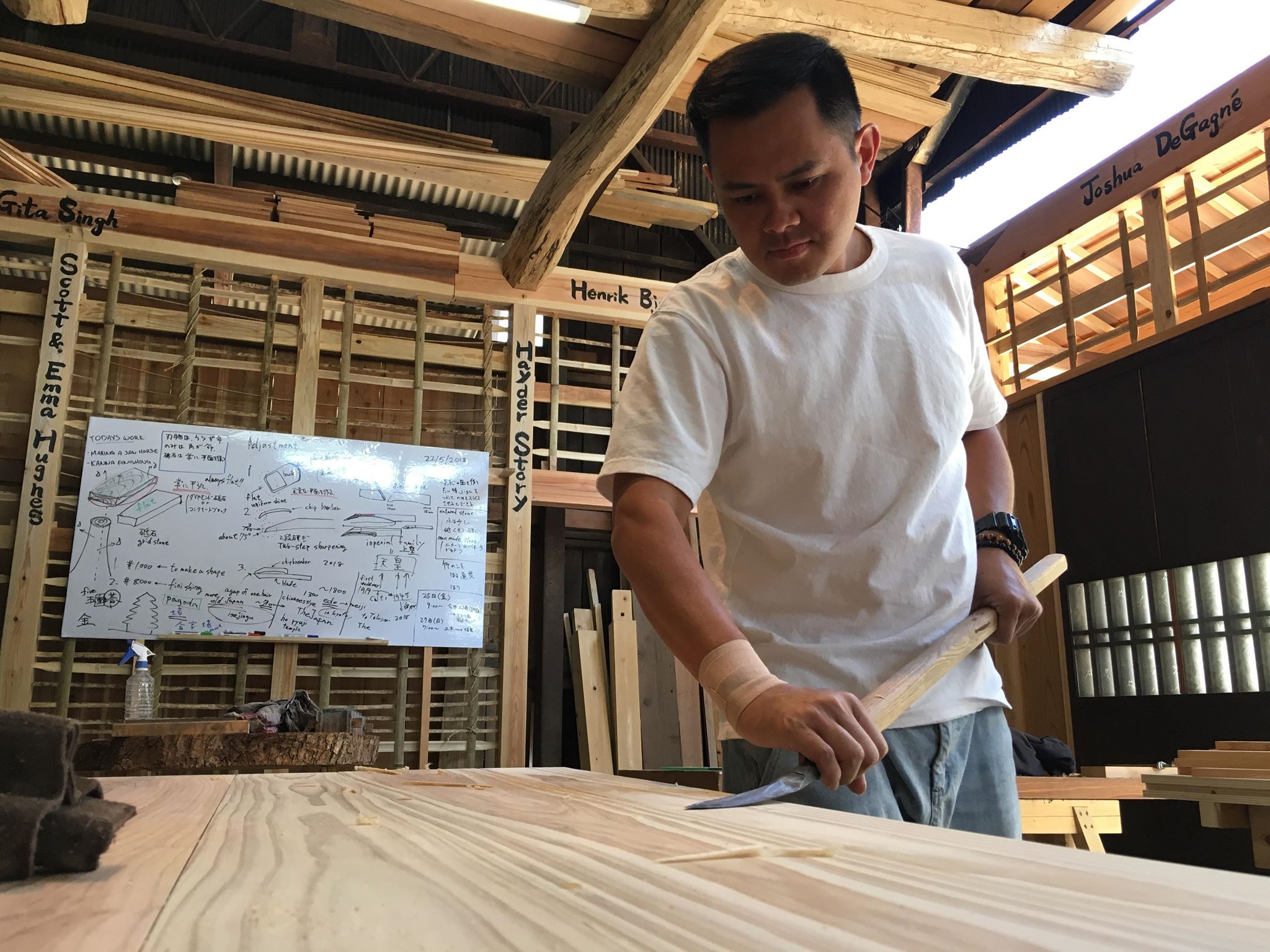 "I was first interested in how the Japanese could make fabulous joinery and shave thin shavings. I dug deeper and became even more fascinated by the philosophy behind Japanese woodworking. Thus began my relentless learning from YouTube. For 2 years, I watched all the videos on YouTube on woodworking and honed my skills. My skills improved a lot and fast, through many hours of learning and putting what I learnt into practice. However, my learning eventually plateaued. One can only learn that much from watching a video. Because when I watched YouTube and things like 'a hair's width' is used, I wonder what a hair's width was. What is the baseline? When I mark a line on a piece of stock and begin to chisel away, how close to the line do I stop? Tiny nuances like this example are things that one cannot learn simply by watching a video- and this began my quest to look for a master who could show me by doing, explaining and then giving pointers on what I can do better.
When Suikoushya launched its Kickstarter, I did not hesitate and I was the first to commit to the month-long course. During the course, I received many valuable pointers on technique. Sensei told me what I was doing right and what I could do better. Positive affirmation is a way to learn as well; I knew what I was doing well and what I could improve on. Did you know that you can tell how much the blade of the kanna is protruding from the mouth simply by using the sense of hearing? How close to the line to chisel depended on how that face would affect the strength of the joint. Some lines were chiseled right in the middle of a pencil line, and some were left a hair's width away; it all depends.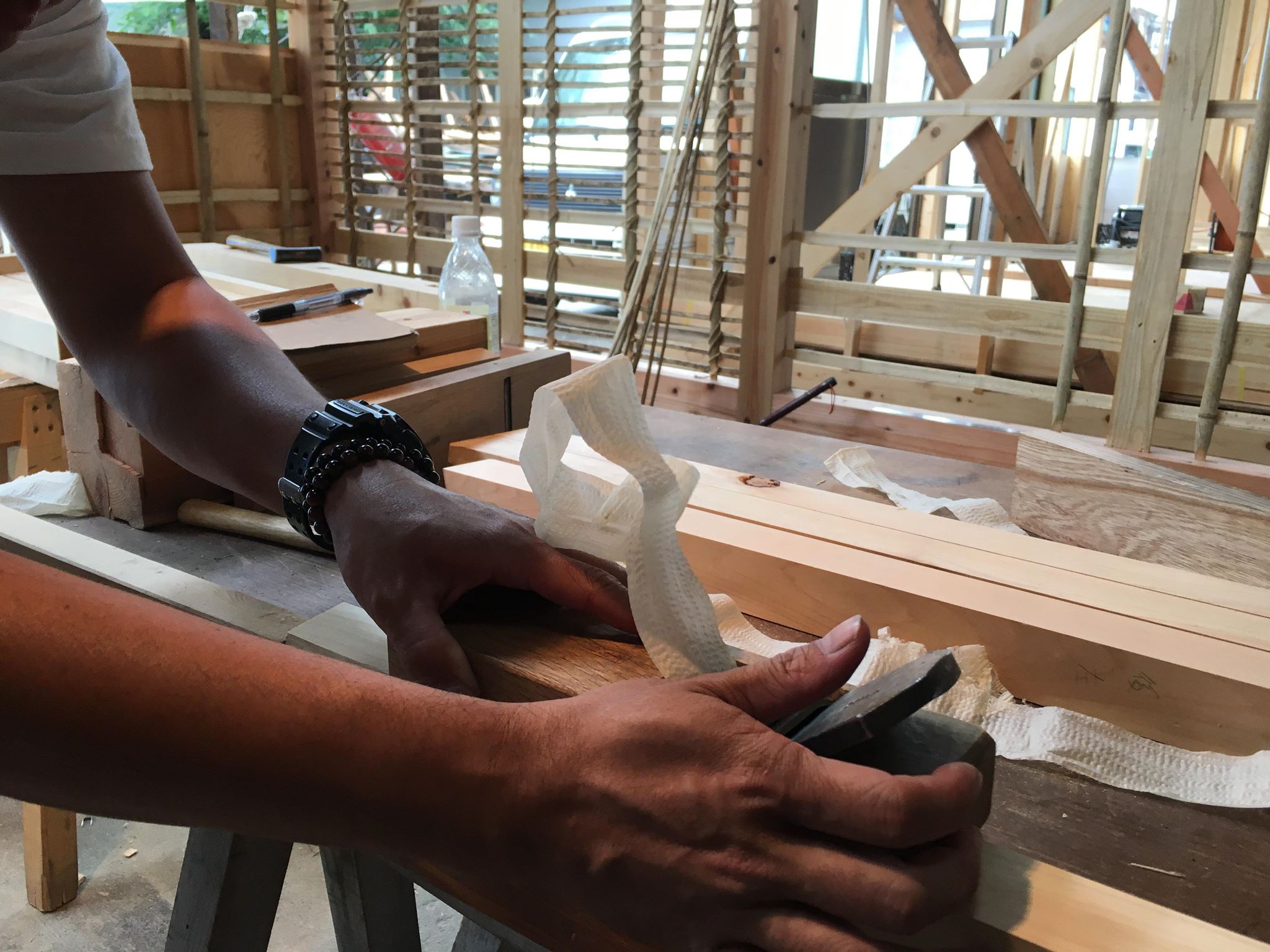 More valuable were the visits that Sensei arranged – visits to blacksmiths workshops, lumber yards, hiking to see old natural stone mines, tool makers festival and a visit to a tateguya-shi's workshop. Though these visits, I could grasp what woodworking meant to the Japanese; and I could then bring these experiences back home to share with many others. I also particularly enjoyed the many hours of chatting during lunch to hear about Sensei's experiences and anecdotes he would tell. Through these whole experiences, I could then truly be immersed into the sometimes secretive and hard to access the world of Japanese craft.
I have no doubt that Sensei is doing the right thing about opening Japanese woodcraft and sharing invaluable knowledge to the world. Whatever your level when you join, you will return home at a much higher level than before. Being the first graduate of Suikoushya International Craft School in Kyoto, I am looking forward to you joining us in the alumni of SICS."