長屋(Nagaya)
A format that has continued since the Edo period (1604-1868).
Nagaya in the Edo period was a rental residence in which one house was divided into several houses.
The kitchen is in the dirt floor and there is no bath. Residents shared a well, toilet and garbage dump.
Nowadays, it refers to an apartment house in which multiple detached houses are arranged horizontally, and there are various types such as one-story and two-story.
At Suikoushya, we share traditional Japanese woodworking techniques and skills. Since it is a small group system, we will provide guidance tailored to each individual's skills, from beginners to woodworking professionals. Please join us!
I look forward to sharing fine woodworking with you.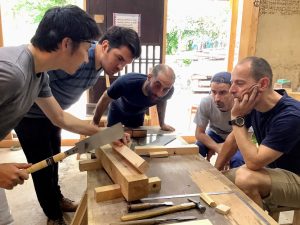 traditional japanese houses~Nagaya in japan