A kind of pine material called sappin, which is often used in France, is very soft.
Soft steel is ideal for soft materials.In Japan, it's white paper.
Hard steel is good for hard materials.In Japan, steel called blue paper is used.
The important thing is to use tools and materials in the right place.
I'm looking forward to sharing this wonderful woodworking with you.
At Suikoushya, we share traditional Japanese woodworking techniques and skills. Since it is a small group system, we will provide guidance tailored to each individual's skills, from beginners to woodworking professionals. Please join us!
I look forward to sharing fine woodworking with you.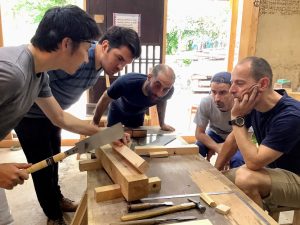 A kind of pine material called sappin