Sashigane is not just a tool used for right-angle marking.
There are other interesting uses that will be useful right away, so here are some of them.
・Draw a curve
・Divide the width 40cm into 3 equal parts
・Measure 45 degrees
・Measure 30 degrees and 60 degrees
・Measure the circumference
・One side of the largest square that can be retrieved from the log
We, Suikoushya, plan to establish a school building in Ile de France in 2022. 
This is a project that we want to build with Suikoushya graduates and professional woodworkers. Through this real construction project, Takami would like to pass not only Japanese woodworking techniqs and craftsmanship but also the spirit of the Japanese people involved in making things.
If you are interested in this project, Please check it out ★
2022 One month course in Île de France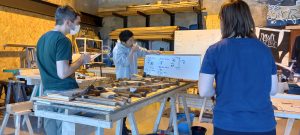 Interesting uses of Sashigane