Ise Jingu Shrine is built aiming for the ultimate beauty. To achieve this, the latest and greatest machines, as well as tools of only existence in the world is used. It might come as a surprise, but the work is not entirely done just with hand tools.
Parts where a machine can provide a superior finish, a machine will be used. Whereas, parts where it's better finished with hand tools are done with hand tools. What this means is that the machineries and tools used, the techniques of carpentry, are just options in the aim for the ultimate beauty.
There is no mentality of "hand tools are better than machines", or "it has to be done this way". With the ultimate beauty in mind, structures are built using the most appropriate tools and techniques. What is used is not a big problem, the important thing is how that is used.
I believe this mentality is not only limited to crafts, but also necessary for your life as well.
What is demanded from you.
What you are good at.
What you wish to do.
It is important to arrange these conditions, think about the things you can currently do, look for the most suitable timing and put it into action.
The beauty of Ise Jingu comes from the myriad people who had spent countless years contemplating, and creating the ultimate beauty. What Ise Jingu passes on to the next generation every 20 years is not "traditional Japanese techniques". I believe it's "how the heart should be" in order to create truly beautiful things.
伊勢神宮は、究極的な美しさ目指して造営されます。
そのために、いわゆる最新機械も、世界に1つしかないとされる道具を使用します。
意外かもしれませんが、全て手道具での作業するわけではないのです。
機械を使った方が美しく仕上がる部分は機械で、手道具を使った方が美しく仕上がる部分は手道具で仕上げていきます。
つまり、使用する機械や道具、大工の技法というものは、究極の美を目指すためのいち手段でしかないのです。
「機械より手道具の方がいい」「このやり方じゃないとダメだ」という考え方は、そこにはありません。
究極の美を目指し、適切な道具・技法を用いて建築していくのです。
何を使うのかは大きな問題ではなく、どのように使うかが重要なのです。
これは物を作る時に限らず、自分の人生を歩むときにも必要な考え方だと思います。
自分が求められること
自分が得意なこと
自分がやりたいこと
これらの条件を整理し、今の自分ができる事を考え、適切なタイミングを見て実行に移すことが大切です。
伊勢神宮の美しさは、多くの人たちが長い年月をかけて考え抜き、究極の美を形にしているところにあります。
伊勢神宮が20年に1度次世代に伝えているのは、「日本の伝統工法」ではありません。
本当に美しいものを作り上げるときの「心の在り方」だと思っています。
At Suikoushya, we share traditional Japanese woodworking techniques and skills. Since it is a small group system, we will provide guidance tailored to each individual's skills, from beginners to woodworking professionals. Please join us!
I look forward to sharing fine woodworking with you.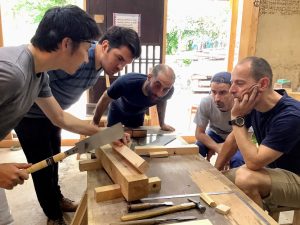 Work at Ise Shrine~伊勢神宮の仕事~