What it means to work fast
There are some things required in order to make the work actually quicker. Of course, proper preparation is expected. But a factor which decides the speed of work even further is the ability to make "judgements" and "decisions".
Holding responsibility for everything you do, being determined, making quick judgements, able to make a decision. This is the secret to working the quickest one possibly can. When one works with hesitation, mistakes and back tracking increases, preventing you from proceeding straight.
Being able to instantly decide what and how each step should be done. This is what working quick means.
People have differences in their physical movements, but even so, it does not decisively set the speed of work. If one is prepared to push forward in a straight line without hesitation, we are definitely able to do precise, wonderful work.
仕事が早いとは
仕事を物理的に早くするために、必要なことがあります。
しっかりと準備を整えることはもちろんですが、それ以上に仕事のスピードを決める要因となるのは「判断力」「決断力」です。
自分が行う事全てに対して責任を持ち、覚悟を決め、素早く判断し、決断を下すこと。
これが、最も早く仕事をする秘訣です。
迷いのある仕事では、間違えたり後戻りしたりすることが増えてしまい、まっすぐに進むことができません。
一つ一つの作業をどの様に・どんな方法で行うのかを瞬時に決断できること、それが仕事が早いということなのです。
人の物理的な動きは多少の差はあっても、その仕事のスピードを決定的とするのものではありません。
迷わず一直線に突き進むための覚悟がすぐにできれば、私たちは正確で間違いない素晴らしい仕事をすることができるのです。
At Suikoushya, we share traditional Japanese woodworking techniques and skills. Since it is a small group system, we will provide guidance tailored to each individual's skills, from beginners to woodworking professionals. Please join us!
I look forward to sharing fine woodworking with you.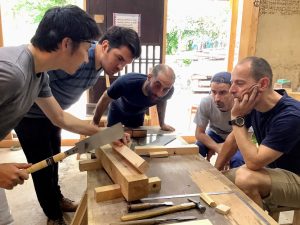 What it means to work fast~仕事が早いとは~