I am Takami Kawai, a Japanese carpenter.
I share fine woodworking using Japanese hand tools with people all over the world.
Today I would like to introduce you to this Japanese hand tool.
The theme is "How to use Japanese hand tools-Mentori kanna"
Let's learn about Japanese hand tools →→ ☆Click here to learn more☆
At Suikoushya, we share traditional Japanese woodworking techniques and skills. Since it is a small group system, we will provide guidance tailored to each individual's skills, from beginners to woodworking professionals. Please join us!
I look forward to sharing fine woodworking with you.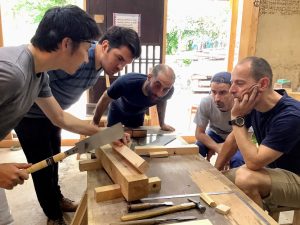 How to use Japanese hand tools-Mentori kanna