You can read about what some of the experience of our past participants. If you are interested in joining us on this study tour, please be sure to check out our page here and contact us for more information.
John (from California, USA) November, 2022
In November I took a walking tour in Kyoto with Marcus, where we visited Manshu-in Temple and Shisendo. It was a wonderful experience learning about Japanese gardens and tea ceremonies. Marcus was knowledgeable and engaging, providing clear explanations of the temples' construction and functions. He even went out of his way to help me select some woodworking tools at a local hardware store. I highly recommend this tour for anyone interested in exploring the cultural and historical gems of Kyoto.
Ken (from Arizona, USA) September, 2022
The architectural tour provided a great opportunity to get a close-up look at a couple of fascinating sites that are less visited than many in the Kyoto area.  On our tour, we went to Shisendo and Manshuin temples.  Takami and Marcus put a lot of attention into comparing and contrasting the facilities various uses as well as the architecture itself.  In each building, Takami took the time to highlight key architectural elements, discussing why and how they were used.  One of the greatest things about the tour was the way Takami and Marcus tailored the discussions and the tour itself to the interests and knowledge levels of the participants.  I learned more about traditional Japanese architecture from this tour than from any other I have taken.
Vorn and Trevor (from Sydney, Australia) March, 2023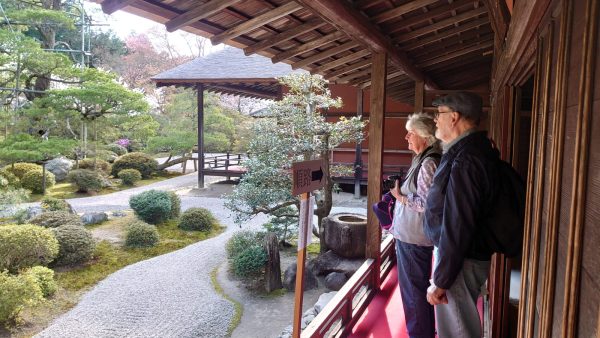 Thank you so much for a wonderful afternoon in which you so eloquently explained the architecture of Shisen Do and Manshuin temples. We relished the opportunity to learn about the design and materials used so many, many years ago. The highlight was undoubtedly the privilege of sitting quietly in an ancient, classic tea house, surrounded by a beautifully manicured garden. We can thoroughly recommend this tour to everyone!
PS Thank you Marcus for all the arrangements you made to ensure that we , foreigners, arrived at the right place, at the right time.. and returned home safely .