Today I would like to talk about Sumitsubo.
The Sumitsubo is one of the carpentry tools used to mark materials.
You put charcoal liquid in this container and use it.
It has a thread attached to it, so you can use it to draw a straight line.
This Sumitsubo is used by carpenters to mark materials.
The act of marking is the most important task in the construction of a building, as it determines the quality of the building by more than 90%. Therefore, this marking task is done by the master.
The master risks his life to make the mark and takes full responsibility for the correctness of his mark.
Therefore, the tools used to make the marks reflect the thoughts and feelings of the master.
Sometimes the Sumitsubo becomes more than a tool, it becomes the alter ego of the master.
It is often seen to exist as a work of art. Each tool has its own story.
Please try to draw your own mark with this Sumitsubo!
Let's enjoy wonderful woodworking with Suikoushya!

At Suikoushya, we share traditional Japanese woodworking techniques and skills. Since it is a small group system, we will provide guidance tailored to each individual's skills, from beginners to woodworking professionals. Please join us!
I look forward to sharing fine woodworking with you.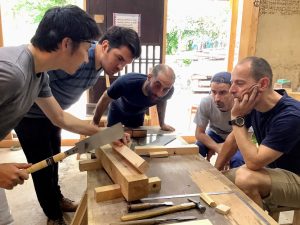 japanese hand tools~about Sumitsubo