About Japanese house interior
The interior of a Japanese house is very simple. Some rooms have only one table or nothing. Instead of fixing the function of the room (living room, dining room, bedroom, etc.), use it flexibly according to the purpose. It may look poor because it has less decoration and furniture than a Western home. But this is a way to lead a more comfortable life.
We can cover everything in one room. If the desk is free, we can iron and do homework. However, there is a principle that we must return what we bring in because there is no clear difference in function between rooms. This is the idea of ​​"Shitsurae" designed to enrich the lives of Japanese people.
A major feature of Japanese interior decoration is the thoroughness of invisible freshness and sophistication, and we Japanese strive to realize this simplicity and splendor.
We, Suikoushya, plan to establish a school building in Ile de France in 2022. 
This is a project that we want to build with Suikoushya graduates and professional woodworkers. Through this real construction project, Takami would like to pass not only Japanese woodworking techniqs and craftsmanship but also the spirit of the Japanese people involved in making things.
If you are interested in this project, please email us
If you want to learn more, we also recommend this online class.
Please check it out ★
2022 One month course in Île de France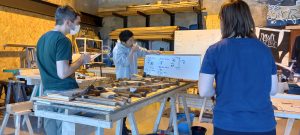 About Japanese house interior~woodworking master class in ile de france~