About [Udeki] and [Hijiki], which are important for supporting the roof.
The material [Udeki] mounted horizontally from the main pillar receives the load of the roof. And [Hijiki] is attached to support [Udeki].
Many of them are decorated in different ways, as [Udeki] and [Hijiki] have an unobtrusive but outstanding presence.
The carpenter's skill is hidden in a small part
We, Suikoushya, plan to establish a school building in Ile de France in 2022. 
This is a project that we want to build with Suikoushya graduates and professional woodworkers. Through this real construction project, Takami would like to pass not only Japanese woodworking techniqs and craftsmanship but also the spirit of the Japanese people involved in making things.
If you are interested in this project, Please check it out ★
2022 One month course in Île de France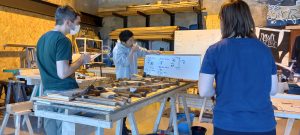 About [Udeki] and [Hijiki]~woodworking master class in ile de france~