I will explain 「KANAWA-TSUGI」.
This is a joinery that combines two identical shapes,and
The method is very efficient and strong. The feature is that the pegs are used vertically. By hitting a peg the material will be connected.
It is a joinery that connects horizontally, so it cannot be assembled without an environment that allows horizontal movement.
And if the post is short, it will not be possible to secure a sufficient range of motion.
It is difficult to choose this joinery.
This joinery can be used in a flexible state where the posts are long and there are no braces.
When choosing a joinery, consider the environment of your construction site.
The joint position from the reference line of the post to the end of the seam is about 150 mm.
You can learn how to make Kanawatsugi on Suikoushya's free YouTube video.
Let's enjoy woodworking together!
We, Suikoushya, plan to establish a school building in Ile de France in 2022. 
This is a project that we want to build with Suikoushya graduates and professional woodworkers. Through this real construction project, Takami would like to pass not only Japanese woodworking techniqs and craftsmanship but also the spirit of the Japanese people involved in making things.
If you are interested in this project, Please check it out ★
2022 One month course in Île de France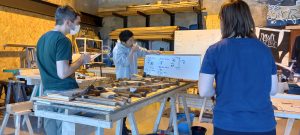 Japanese joinery [KANAWA-TSUGI]