Ryoba Saw has two types of blades: coarse-grained "vertical blades" and fine-grained "horizontal blades".
Vertical blades: Cuts along the grain
Horizontal blades: Cuts at right angles to the grain
Japanese saws are used by pulling.
At the beginning of pulling, it is easy to cut with a saw path.
Let's cut using the full length of the blade. There are two points.
・ Hold the saw from directly above
・ Fix the material firmly
Let's enjoy woodworking together!
We, Suikoushya, plan to establish a school building in Ile de France in 2022. 
This is a project that we want to build with Suikoushya graduates and professional woodworkers. Through this real construction project, Takami would like to pass not only Japanese woodworking techniqs and craftsmanship but also the spirit of the Japanese people involved in making things.
If you are interested in this project, Please check it out ★
2022 One month course in Île de France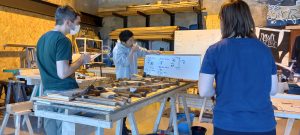 Ryoba Saw has two types of blades