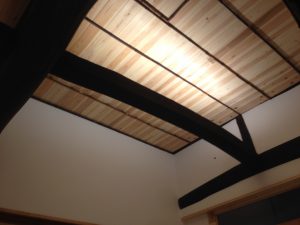 The ceiling is all Sugi (Japanese Cedar). Roasted bamboo, which were cleaned and oiled were added. The exposed beams were wire brushed to give it a little glaze.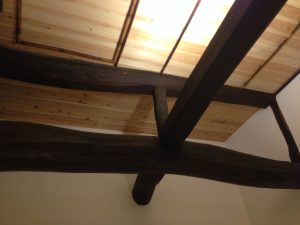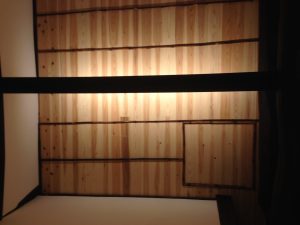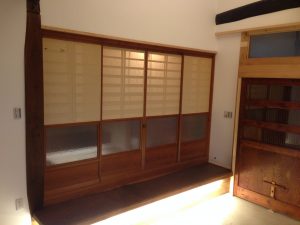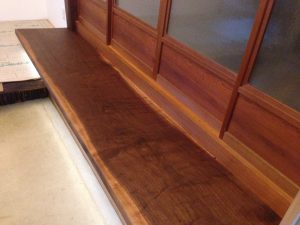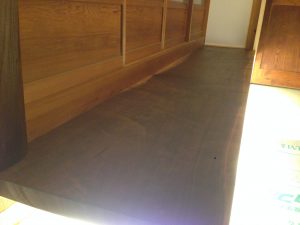 The Shiki-Dai (An entrance way step) is made from oil-finished Black Walnut.
The wall below the Black Walnut is a Sugi (Japanese Cedar) board. It is entirely natural and if you look closely, you can see the marks left by the hand saw when they were sawing it into planks.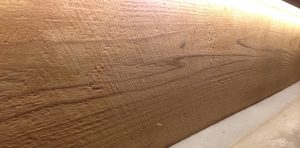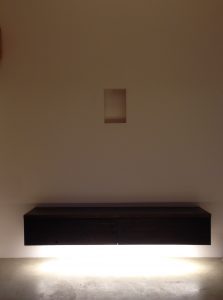 The shoe box. Having lights below the box gives it a floating atmosphere. The white wall is entirely Shikkui (traditional Japanese plaster).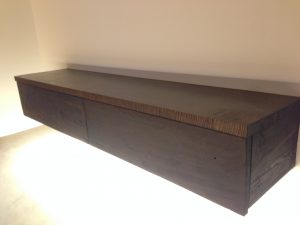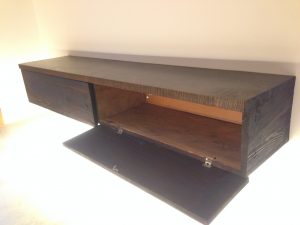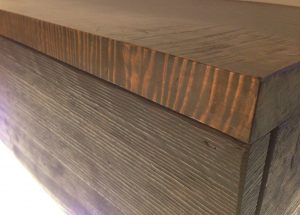 It is made entirely out of reused materials. the top is Tochi (Japanese horse chestnut), which was used for the Tokonoma (alcove where flowers or art is displayed) before. The lid and side walls are Matsu (Pine). It was used as a layer under the Tatami flooring before this. Interesting thing is that before it went under the Tatami flooring, it was a beam.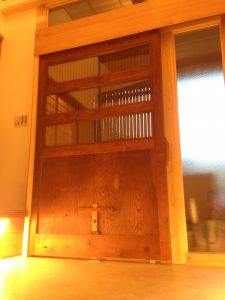 The inside view of the entrance door. It used to belong to a clothing store and has a long story to tell.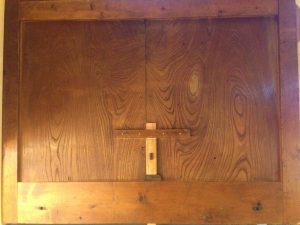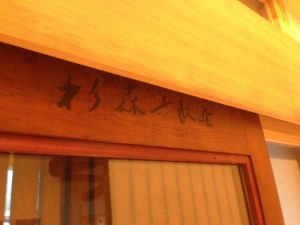 The beautiful wood grains. The original, analog lock was repaired and can be used.
A double plane glass was added for added insulation.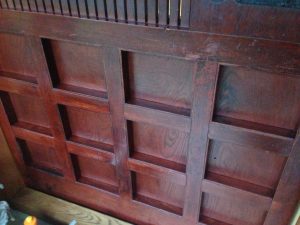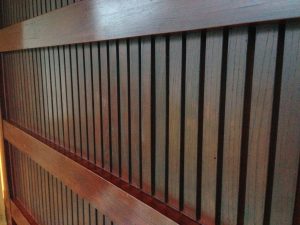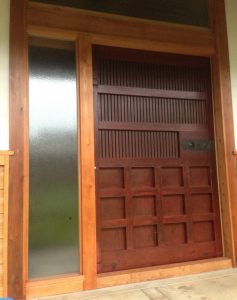 The view of the door from the outside. The door was painted over (as close to the original color) as there were some battered areas. It was then finished with oil, giving it a gleaming look.
The door is made from Keyaki (Japanese Zelkova) and Hinoki (Japanese Cypress).
At Suikoushya, we share traditional Japanese woodworking techniques and skills. Since it is a small group system, we will provide guidance tailored to each individual's skills, from beginners to woodworking professionals. Please join us!
I look forward to sharing fine woodworking with you.