With the raining season coming closer, we needed to extend the current roof to prevent the workshop from becoming drenched.
This type of roofing is used in numerous historical architecture. It's made entirely out of wood – layer after layer of thin wooden planks are stacked up to create the roofing. The species of wood used in this case was Sawara (Sawara Cypress).
Since it is entirely made from wood, it has a life span of about 20 to 30 years before it has to be redone. This method of roofing is unique to Japan and is estimated to have existed from more than 1300 years ago.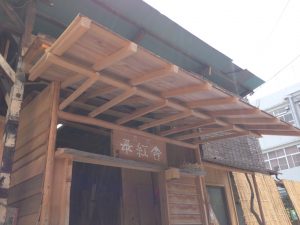 For this design, we tried something new. The roof does not have any posts supporting the structure. Is it strong enough? Probably, as it managed to hold my weight (though it may have started leaning down). But the true test will be to see how it holds against the snow.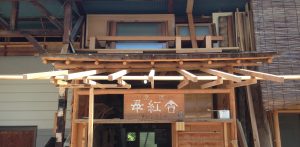 Getting the framework. Temporary posts were placed underneath to support the structure. Once all the screws were set, the posts were removed.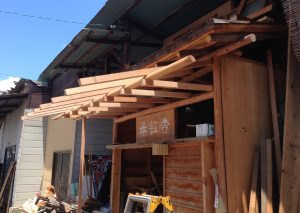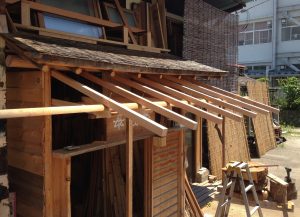 It has two layers of rafters. The idea is that the bottom layer acts as a sort of a support bracket.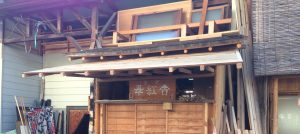 A layer of planks were first added. This allows the upcoming layer of thin planks to be stapled on.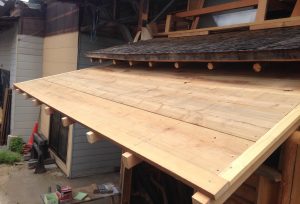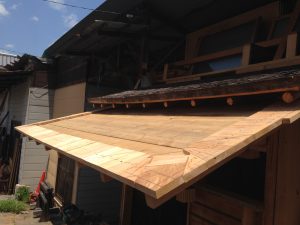 Next, planks about 30 millimeters thick were laid around the edges.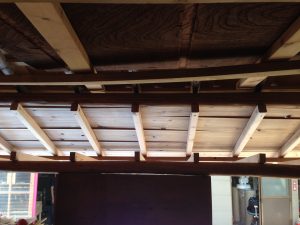 The view from the inside.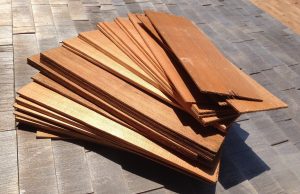 The Sawara (Sawara cypress) planks used for the roofing. Other types of wood such as Hinoki (Japanese Cypress), Sugi (Japanese Cedar), Enoki (Chinese Hackberry) can be used.
The planks are made by splitting the wood. This allows small gaps to exist between the overlapped layers, therefore, leading to better ventilation and a longer life.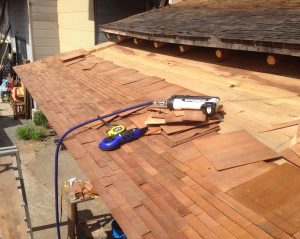 Next was to start the time-consuming work of laying the planks. A scale was used to measure the distance from the edge (in 30 millimeter increasements). Once the distance was taken from both ends, the Sumi-Tubo was used to get a straight line (the string is dipped in ink, pulled tight, then "plucked"). Once the line was made, the planks were stapled on. The important part is to make sure the joints do not align.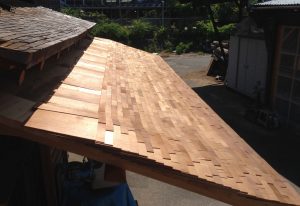 Almost done and looking glamorous in the sun.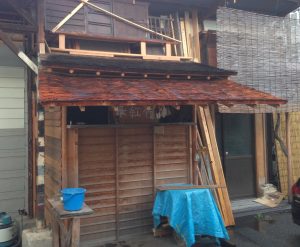 All done and looking colorful after the rain. Thankfully, there were no leaks.
At Suikoushya, we share traditional Japanese woodworking techniques and skills. Since it is a small group system, we will provide guidance tailored to each individual's skills, from beginners to woodworking professionals. Please join us!
I look forward to sharing fine woodworking with you.