I am Takami Kawai, a carpenter in Japan.
I am currently working on a project to donate a torii to a shrine in Kyoto, and the whole process will be share for free.
If you want to learn more about torii production, take an online class.
I will explain how to construct a torii gate.
The theme is "About Torii's proportions".
First, you have to decide the proportion of the torii (the length and the angle of the pillar).
What is important at this time is that the distance between the pillars and the distance from the ground to Nuqui are the same.
In other words, the entrance to the torii is square.
From that, we determine all the shapes.
The size of the entrance will vary depending on where the torii will be built, but it should always be square.
The warp and the angle of the pillar are added later as a decorative element, and their functional meaning is not so important.
You can make it to your liking.
Anyway, it is very important that the entrance to the torii is square.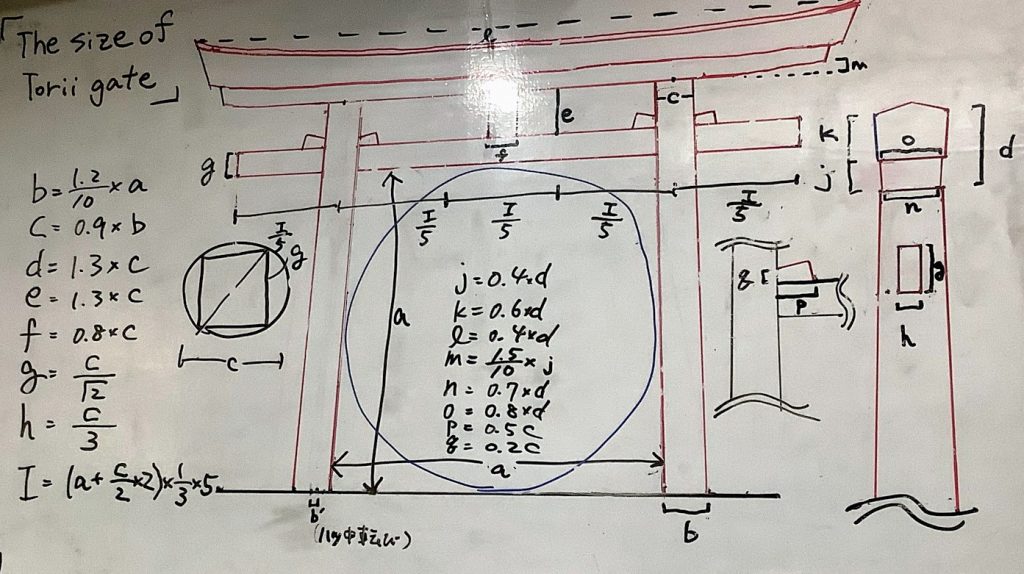 I will explain the proportions (length of each point) of Torii.
size  a ~ f ⇩
size g ~ i ⇩
size j ~ o ⇩
size p ~ q ⇩
First, decide the interval (a) between the posts of the torii you want to make.
This will determine the size of all materials.
a: the interval between the posts of the torii
b: (1.2/10)×a
c: 0.9 ×b
d: 1.3×c
e: 1.3×c
f: 0.8×c
g: c/√2
h: c/3
i: (a+c/2×2)×1/3×5
j: 0.4×d
k: 0.6×d
l: 0.4×d
m: 1.5/10×j
n: 0.7×d
o: 0.8×d
p: 0.5×c
q: 0.2×c
Would you like to try constructing a torii too?→☆Click here to learn more☆
At Suikoushya, we share traditional Japanese woodworking techniques and skills. Since it is a small group system, we will provide guidance tailored to each individual's skills, from beginners to woodworking professionals. Please join us!
I look forward to sharing fine woodworking with you.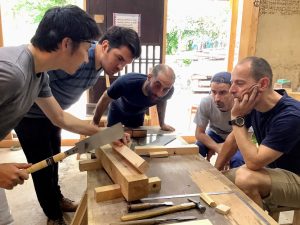 About Torii's proportions