3: Kidori / saw
The work of cutting out materials from logs is called "Kidori" in Japan.
Each log has a different shape and expression. Examples: straight, bent, nice grain, knots, cracks, worm-eaten, rotten, etc.
Producing the materials you need from a single log of different expressions is a very difficult but fun process.
The master imagines what he is trying to make in his head and prepares the material that suits it. It has a lot of creative fun. But on the other hand, there are also significant risks. Since KIDORI materials become products, it is no exaggeration to say that the quality of KIDORI affects the finished product.
We, Suikoushya, plan to establish a school building in Ile de France in 2022. 
This is a project that we want to build with Suikoushya graduates and professional woodworkers. Through this real construction project, Takami would like to pass not only Japanese woodworking techniqs and craftsmanship but also the spirit of the Japanese people involved in making things.
2022 One month course in Île de France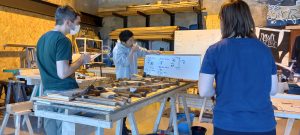 KIDORI and saw~woodworking master class in ile de france~