Have you ever been surprised by the Japanese skill of completely attaching bent columns and beams?
The house looks very complicated at first glance, but the skeleton itself is simple and can be thought of as a "reference line".
・ Top of the base
・ Pillar core
・ Lower end of rafters
・ Touge ink
The material is inked with a straight basic line (reference line), which is the standard for dimensional control. In principle, dimensional control is not done from the edge of the timber, but with a black-printed reference line.
By always thinking from this reference line, even bent materials can be fitted perfectly!
We, Suikoushya, plan to establish a school building in Ile de France in 2022. 
This is a project that we want to build with Suikoushya graduates and professional woodworkers. Through this real construction project, Takami would like to pass not only Japanese woodworking techniqs and craftsmanship but also the spirit of the Japanese people involved in making things.
2022 One month course in Île de France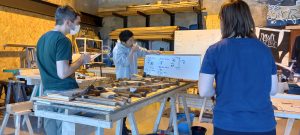 marking reference line~woodworking master class in ile de france~