Summer in Japan is characterized by high humidity and muggy. So the Japanese built their house with the idea of spending a cool summer. The wooden house in Japan was devised to survive the summer.
Example
・A long eave on the veranda that blocks direct sunlight.
・ A frontage that opens wide from north to south.
・A structure that reduces walls by connecting columns with beams.
・ Shoji that can be divided into small pieces or opened completely.
・Underfloor that keeps breathability so that moisture does not accumulate.
・ Dry grass roof such as silver grass and reed
Various places contain ancient wisdom to prevent the heat of the sun and allow the wind to pass through.
When carpenter Takami builds a wooden architecture in France, it must be more in harmony with the European climate. I am very much looking forward to the new architecture that will be created in my next project in Ile de France.
We, Suikoushya, plan to establish a school building in Ile de France in 2022. 
This is a project that we want to build with Suikoushya graduates and professional woodworkers. Through this real construction project, Takami would like to pass not only Japanese woodworking techniqs and craftsmanship but also the spirit of the Japanese people involved in making things.
2022 One month course in Île de France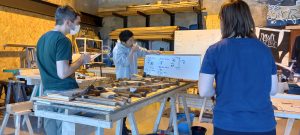 the idea of spending a cool summer in Japan~woodworking master class in ile de france~