The floor of Suikoushya Kyoto School was made in the traditional Korean way. As the name suggests, it is widely used in old Korean houses and temples, and even short timber can beautifully finish a large space. Why did carpenter Takami, who built the Kyoto School in the traditional Japanese way, make only the floor Korean-style?
He liked it and thought it was cool★
Even if he adds play to the floor in this way, the finished product is Japanese and everything is in harmony. Even if it's not a Japanese way, Takami made it obediently according to his unique sensibility, so these are definitely finished in a Japanese style.
Let's enjoy woodworking together
We, Suikoushya, plan to establish a school building in Ile de France in 2022. 
This is a project that we want to build with Suikoushya graduates and professional woodworkers. Through this real construction project, Takami would like to pass not only Japanese woodworking techniqs and craftsmanship but also the spirit of the Japanese people involved in making things.
2022 One month course in Île de France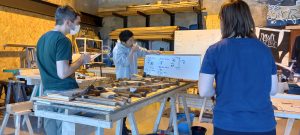 the floor Korean Style~woodworking master class in ile de france~