About TOYU(an eaves gutter)
The one that receives rainwater from the roof to the eaves is called an eaves gutter. At the resthouse of Suikoushya, carpenter Takami broke japanese cedar in half to make an eaves gutter. It is the best material for the eaves gutter of the Suikoushya resthouse, which uses natural materials such as soil, wood, and bamboo.
I came to Marseille and noticed
. There are no eaves gutters in the building here. Perhaps the biggest reason is low rainfall. Also, because the outer wall is made of stone, it is more resistant to muddy water than Japanese wooden outer walls. And what is important may be the difference in aesthetics between Japan and Western Europe. Is the part of the building polluted by muddy water "weathered" or "dirty"?
It's very interesting
We, Suikoushya, plan to establish a school building in Ile de France in 2022. 
This is a project that we want to build with Suikoushya graduates and professional woodworkers. Through this real construction project, Takami would like to pass not only Japanese woodworking techniqs and craftsmanship but also the spirit of the Japanese people involved in making things.
2022 One month course in Île de France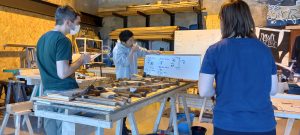 About TOYU(an eaves gutter)~woodworking master class in ile de france~