Kumiko is found in shoji and Ranma, etc. It is a Japanese technique for assembling wood without using nails. It is well known that there are many types, and you may imagine something very delicate.
However, the oldest Kumiko found in Japanese architecture is on the railing of Horyuji Temple and its five-storied pagoda. Unlike the fine Kumiko's work often seen in fittings, it is made of thick wood. These are powerful, simple and cool.
'Asanoha' Kumiko made by the first generation
Alvan Koh
is attached to the window of Suikoushya Kyoto. 'Asanoha' have the meaning of talisman and healthy growth.
We, Suikoushya, plan to establish a school building in Ile de France in 2022. 
This is a project that we want to build with Suikoushya graduates and professional woodworkers. Through this real construction project, Takami would like to pass not only Japanese woodworking techniqs and craftsmanship but also the spirit of the Japanese people involved in making things.
2022 One month course in Île de France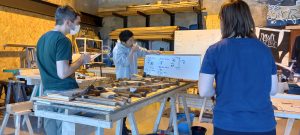 About Kumiko~woodworking master class in ile de france~