How to make a flat surface?
When making a flat surface of a curved material, how do you use the normal size (short size) and the long size?
If you use a small plane from the beginning, it will go under the uneven part and will not become flat. Therefore, a long size plane should be used first so that only the high part of the material can be cut without the body entering the depression.
In other words, the longer the plane is, the more evenly it can be cut and the flatter the surface will be.
It is best to use the longer plane to remove the bumps, and then use the normal size plane to make the plane even flatter and more beautiful.
We, Suikoushya, plan to establish a school building in Ile de France in 2022. 
This is a project that we want to build with Suikoushya graduates and professional woodworkers. Through this real construction project, Takami would like to pass not only Japanese woodworking techniqs and craftsmanship but also the spirit of the Japanese people involved in making things.
If you are interested in this project, Please check it out ★
2022 One month course in Île de France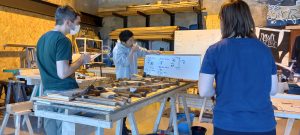 How to make a flat surface?