「KABUTO-ARI」
The KABUTO is the part that rides on the beam. It means a hat.
The ARI part has a wide upper part and a narrow lower part.
It is slightly tapered.
By doing so, It is possible to insert it from a slightly wider entrance, and heavy materials will enter smoothly.
The materials can be intermeshed relatively easily.
The more it goes inside, the more firmly they are combined.
This is a device that takes work efficiency into consideration.
You can learn how to make Kabuto Ari with Suikoushya's free YouTube video! Please check.
We, Suikoushya, plan to establish a school building in Ile de France in 2022. 
This is a project that we want to build with Suikoushya graduates and professional woodworkers. Through this real construction project, Takami would like to pass not only Japanese woodworking techniqs and craftsmanship but also the spirit of the Japanese people involved in making things.
If you are interested in this project, Please check it out ★
2022 One month course in Île de France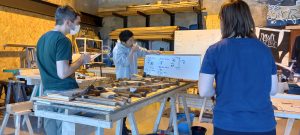 Japanese joinery [KABUTO-ARI]