The project site manager is called the carpenter master (the master depends on the site) and only the master can mark the materials. In Japan, it is said to be "a full-fledged carpenter if it can be marked" because only the master who gives instructions to the people involved in the site and understands and manages the entire construction will mark it. By the way, Takami was appointed as a master in the fourth year since he became a carpenter
If you make a mistake in marking, everything will fail, so the carpenter master is desperately marking. Once upon a time, the carpenter master who made a mistake in marking was killed by his owner (lord) to take responsibility for it. Therefore, the craftsmen who work together valued the marked ink and desperately processed it.
I think one of the reasons why Japan's wonderful architecture was born is the relationship between craftsmen. The beauty of Japanese architecture is not only due to the wonderful craftsmanship, but also to the connection between craftsmen, such as the ability to believe in people.
We, Suikoushya, plan to establish a school building in Ile de France in 2022. 
This is a project that we want to build with Suikoushya graduates and professional woodworkers. Through this real construction project, Takami would like to pass not only Japanese woodworking techniqs and craftsmanship but also the spirit of the Japanese people involved in making things.
2022 One month course in Île de France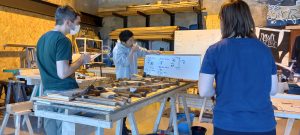 About carpenter master~woodworking master class in ile de france~