Timbers warps over time. This phenomenon is also a drawback of timbers, but the carpenter chooses where to use it and turns it into an advantage.
The timber warps forward. Of course, this also applies to board material, but the same rules apply to square timber.
Once you understand this rule, you won't get lost in the timber, beams and rafters, window frames, window lintels, doorsill, kamoi, floorboards, etc. used for the foundation of your house. You can see which side is up, down, left or right. ..
・ Why is the tree distorted?
・ How to see the bias of the core of the tree
・ How to check the warp
・ Shaving direction with kanna
・ Where and what material to use in the building
etc…
Would you like to learn the important rules for using wood in the building in the actual construction of the school building?
In 2021, a new school building of Suikoshya will be built in Ile de France!
If you are interested, please contact Suikoushya by email.
We, Suikoushya, plan to establish a school building in Ile de France in 2022. 
This is a project that we want to build with Suikoushya graduates and professional woodworkers. Through this real construction project, Takami would like to pass not only Japanese woodworking techniqs and craftsmanship but also the spirit of the Japanese people involved in making things.
2022 One month course in Île de France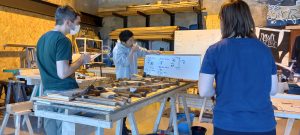 How to use timbers~woodworking master class in ile de france~