Making clay wall was a collaborative effort during the off-season of agriculture. The wall in Suikoushya Kyoto was also built with students and children in the neighborhood (not yet completed). Break the bamboo to make a fence-like base, and pour the soil in several steps. Made of natural materials, it is reusable and produces little waste during dismantling. And above all, the biggest point of Making clay walls is that we can enjoy the process of making with everyone!
We, Suikoushya, plan to establish a school building in Ile de France in 2022. 
This is a project that we want to build with Suikoushya graduates and professional woodworkers. Through this real construction project, Takami would like to pass not only Japanese woodworking techniqs and craftsmanship but also the spirit of the Japanese people involved in making things.
2022 One month course in Île de France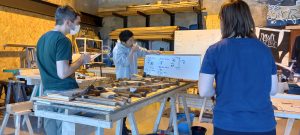 Making clay wall~woodworking master class in ile de france~