About Ishibadate (pillar standing on a stone). Its good ventilation makes it difficult for the feet to rot, and even if it is damaged, we can lift the building completely and repair the damaged pillars. Making it repairable is the key to building a long-lived home.
Carpenter Takami, used it to the break space so that the students could learn the Ishbadate. They discovered it directly and spent relaxing there.
Many Ishibate (pillars standing on stones) buildings appear in Japanese anime. For example, in Totoro, Demon Slayer, and Chibi Maruko-chan.
We, Suikoushya, plan to establish a school building in Ile de France in 2022. 
This is a project that we want to build with Suikoushya graduates and professional woodworkers. Through this real construction project, Takami would like to pass not only Japanese woodworking techniqs and craftsmanship but also the spirit of the Japanese people involved in making things.
2022 One month course in Île de France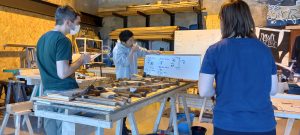 About Ishibadate (pillar standing on a stone)~woodworking master class in ile de france~