Although cedar barks are not often used in ordinary houses these days, they are ideal for Japanese buildings because they have a high heat insulating effect and excellent humidity control.
This is the Italian Embassy Villa built by Antonin Raymond. The interior and exterior are made of cedar bark and bamboo, and the floor is made of fir tree. The foundation of the building is made of stone collected from a nearby lake, which is the ultimate local production for local consumption. They are in good harmony with the surrounding landscape.
Even at Suikoushya, we want to build such a "building that looks like it has grown from the ground"!
We, Suikoushya, plan to establish a school building in Ile de France in 2022. 
This is a project that we want to build with Suikoushya graduates and professional woodworkers. Through this real construction project, Takami would like to pass not only Japanese woodworking techniqs and craftsmanship but also the spirit of the Japanese people involved in making things.
If you are interested in this project, Please check it out ★
2022 One month course in Île de France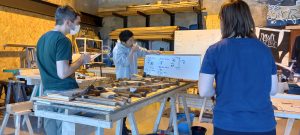 House made of cedar barks