In Suikoushya's class, we first make a carpenter's toolbox.
It's the size that fits your own tools. It can be large or shallow.
The toolbox depicted below can be fixed by inserting a saw into the crosspiece! Also, the lid seems to be tied up with a string and fixed. amazing!
It's nice to see someone who has an original special toolbox, not a off the shelf .
We, Suikoushya, plan to establish a school building in Ile de France in 2022. 
This is a project that we want to build with Suikoushya graduates and professional woodworkers. Through this real construction project, Takami would like to pass not only Japanese woodworking techniqs and craftsmanship but also the spirit of the Japanese people involved in making things.
If you are interested in this project, Please check it out ★
2022 One month course in Île de France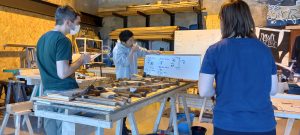 japanese carpenter's toolbox