In traditional Japanese architecture, you can see roofs made of various materials such as roof tiles and thatched.
And the shape of the roof is also diverse.
Here are some of them.
Irimoya-zukuri (Combination roof)
Yosemune-zukuri (Hip roof)
Kirizuma-zukuri (Gabled roof)

At Suikoushya, we share traditional Japanese woodworking techniques and skills. Since it is a small group system, we will provide guidance tailored to each individual's skills, from beginners to woodworking professionals. Please join us!
I look forward to sharing fine woodworking with you.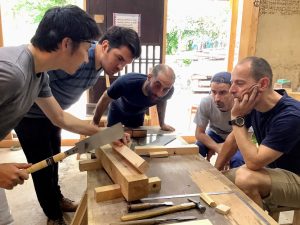 japanese joinery techniques~the shape of the roof