通り庭(Tori-niwa) /はしり( Hashiri)
An earthen floor that allows passage from the front doorway to the back door.
Near the entrance is a store and at the back is a kitchen, also called 走り庭(Hashiriniwa) or はしり(Hashiri).
At the top of the building there is a vaulted ceiling with a skylight, which provides light, ventilation, and room temperature control. It is one of the styles of old Japanese houses.
Enjoy woodworking with Suikoushya!

At Suikoushya, we share traditional Japanese woodworking techniques and skills. Since it is a small group system, we will provide guidance tailored to each individual's skills, from beginners to woodworking professionals. Please join us!
I look forward to sharing fine woodworking with you.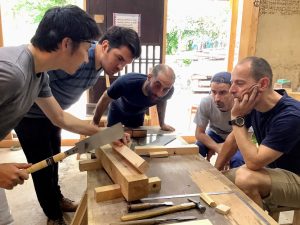 traditional japanese houses~通り庭(Tori-niwa) /はしり( Hashiri)