The material used for roofing in Japan is called 瓦 (kawara), which is made from clay that has been molded and baked. Originally used for shrines and temples, as we see today, tiles have been used for houses since about 150 years ago.
The tiles that decorate the top edge of the roof are called 鬼瓦(onigawara). It represents the face of a demon, but may have various designs. It is meant to ward off evil spirits from entering the house.
Let's enjoy Japanese woodworking with Suikoushya!

At Suikoushya, we share traditional Japanese woodworking techniques and skills. Since it is a small group system, we will provide guidance tailored to each individual's skills, from beginners to woodworking professionals. Please join us!
I look forward to sharing fine woodworking with you.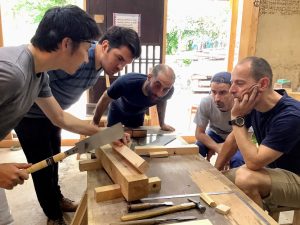 traditional japanese houses~瓦 (kawara) and 鬼瓦(onigawara)