Grandfather lived in an old, tradition Japanese wooden house.
When I was younger, whenever we visited grandfather's house, I was fascinated by the the various joineries seen around. Now that I reflect on it, it was this fascination in joineries that made me enter the world of crafts.
For "Joineries", the wood is made into the suitable shape and size to be optimally connected together. This is never done to decorate the structure. It is done simply for it to serve it's function.
However for whatever reason, it fascinated 10 years old me, as though it was a work of art.
Why do I feel "beauty" in the joinery.
Made solely for functionality, that is simply the reason why joineries are so beautiful.
The result of relentlessly seeking for functionality, a form when all unnecessary things has been eliminated. Is that why I feel beauty in joineries?
We are moved by and feel beauty in the form of nature as it is.
For example, the plants, or the colours and shape of flowers. In order to survive, out of necessity it was driven to become into that shape, a form clearly with no waste. That is why, I believe we recall the beauty and are moved by those shapes. I feel the same about joineries.
When you consider how wood can be used even longer, stronger and more beautifully without putting it through unreasonable conditions, joineries become the most effective shape. Shapes made in this way never has any unnecessity and instead of "man made beauty", there exists "universal beauty".
祖父は昔ながらの日本的な木造家屋に住んでおり、まだ幼かった私は祖父の家に行くたびにあちこちに見られる「継手」に美を感じていました。今思い返してみると、継手への興味こそが、私がモノ作りの世界に入るきっかけでした。
「継手」は、適切な形・大きさで加工することにより、木を最適に結合します。それらは決して建築を装飾するためのものはなく、あくまでもその機能を果たすためのもの。でもなぜかそれらはまるで芸術品のように、当時10歳だった私を魅了したのです。
どうして私は継手に「美」を感じるのか。
機能的につくられた継手がこんなに美しい理由は、継手がその機能性を求めた結果、一切の無駄を省かれた形だからではないでしょうか?
私たちは自然のありのままの姿に美しさを感じ、感動します。例えば草木や花の色・形がそれにあたります。それらは必要に迫られ、生きていく上でその形状になったものであり、まさに無駄がありません。だからこそ、私たちはその形に美しさや感動を覚えるのではないかと考えています。私は、継手にも同じものを感じるのです。
木を無理のない状態でより長く、強く、美しく保てるように使い続けていくことを考えた時、継手は最も有効な形となります。そうして作り出された形には一切の無駄はなく、「人工的な美しさ」ではなく、「普遍的な美しさ」が存在すると思うのです
At Suikoushya, we share traditional Japanese woodworking techniques and skills. Since it is a small group system, we will provide guidance tailored to each individual's skills, from beginners to woodworking professionals. Please join us!
I look forward to sharing fine woodworking with you.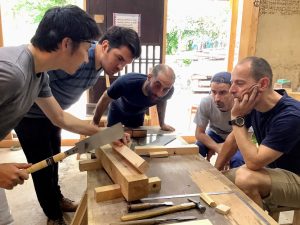 Why are joineries beautiful~なぜ継ぎ手は美しいのか~